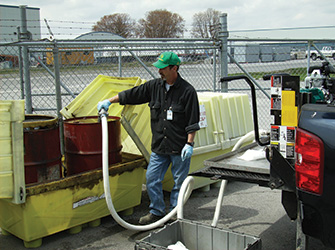 Waste oil recovery and pumping is a hot topic right now in the world of pumps. For facilities with multiple storage tanks or sites, a portable pump may be a great option considering the alternatives. Traditionally vacuum pump trucks have been one of the only options available to transfer waste oil from tanks, cargo, tanker ships, on site storage facilities and more. This is no longer the case.
The Mud Sucker diaphragm pump system has a variety of sizes and options to transfer all kinds of waste oils no matter the size of the job or facility. For example, at this North American military base (pictured left), the customer uses Wastecorp's Mud-Sucker 2F-MC diaphragm pump with wheel kit. This powerful pump is moved easily from site to site and transfers up to 25 GPM. With few moving parts and a contoured velocity channel, this pump is virtually maintenance free.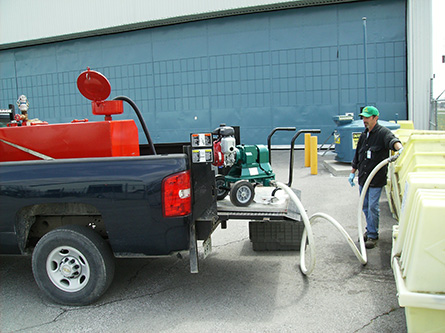 For large military bases with multiple locations including vehicle service area, aircraft hangers and even waste cooking oil, the Mud-Sucker 3F series (with a 3" connection) provides more pumping power with capabilities up to 80 GPM.
Speak to a waste oil pump manufacturer today to get the correct equipment for your pump out operation. You can reach a waste oil pump manufacturer at 1-888-829-2783 or email info@wastecorp.com