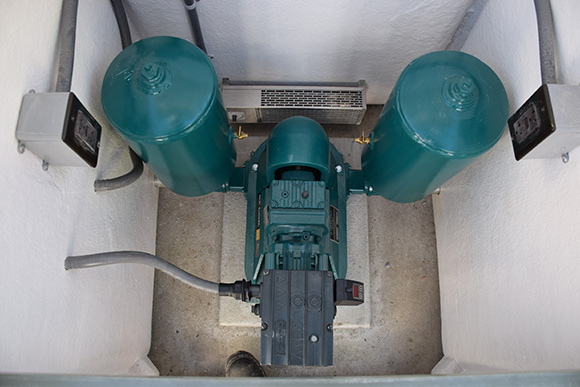 One of the questions we get most often from railroads is how to cost effectively install a new pump system that can pump liquids as varied as oil or chemicals from rail car tankers to septic waste from locomotive restrooms.  Manny R from Norfolk Virginia exemplifies the pumps for railroad issue:
"I am the maintenance foreman at a Virginia railroad for one of the nation's leading railroad companies. We have a situation at one of our tanker unloading yards. The pumps we have in place to pump out and transfer storm water pits have failed and need replacement immediately. I saw your pumps working at one of our other yards and need your assistance to get these replaced as quickly as possible. Storm water lagoons are about 25' deep so we would need about 20 ft. of suction lift and they need to discharge another 75' feet (horizontal). The fluid is essentially water mixed with some oil, grit and other solids no more than ½" in dia. What do you recommend and can you provide pump curves and drawings so we can get these installed quickly?" Manny R, from Norfolk Virginia
Well Manny, Wastecorp has designed and manufactured pumps and parts for American and Canadian based railroads for almost 30 years. We have worked with Amtrak, CSX Transportation, Norfolk Southern, Canadian National Railway, Burlington North Santa Fe, New Jersey Transit, MTA NYC, Metra Chicago, Toronto Transit Commission and many others. I have included a case study below to show the work we did at one of your other Virginia yards.
Waste Oil Pumps
In this application, your company specified Mud Sucker 2B Series Pumps with an optional touch screen variable frequency drive (VFD) mounted on the 3 ph. electric motor. The Mud Sucker 2B Series is an electric diaphragm pump with a ball valve to manage grit and other solids that might come with storm water. The idea here is that if anything got stuck in the suction or discharge the operator would only have to unscrew four knobs to get inside the pump to inspect. This takes about a minute. With other types of pumps like some double disc pump makes and rotary lobe pumps you must take apart the pump to see what is blocked. This is not the case with the Mud Sucker. The Mud Sucker diaphragm pump is maintenance friendly and inexpensive to service. As you see in the photos we recommended that the railroad have an enclosure over the pumps to protect from weather and vandals. An enclosure is not required but recommended. These 2B Series pumps have pumping capabilities of up to 20 GPM but they go up as high as 160 GPM depending on your flow rate needs.
Pump Components
In this application, we recommended that the operator have a check valve at the end of the suction hose so when the pump is not operating, the pump stays primed with fluid in the hose. This makes for quicker priming of the pump when the float switches kick in again. There is no problem with the Mud Sucker pump running dry. They are designed to run dry without damage.
Pump Start Up Services for Railway Companies
Wastecorp also provided start up services for this project in addition to the engineering support provided in the initial design stage. The engineer and contractor could quickly implement our CAD files and solid works renderings and submit for approval. Local support and technical support over the phone are always available for the operators as well.
If your railway or public transportation authority has a septic pumping or waste transfer pump need contact a trusted manufacturer for railway pumps at 1-888-829-2783.