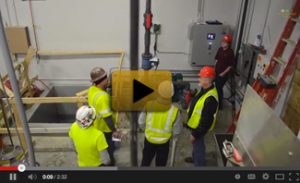 State-of-the art food processing facilities and the engineers who design them have a challenge in finding the right pumps and control panels to transfer process wastewater. This was the case for fast food restaurant chain White Castle's innovative processing center in Ohio USA. Wastecorp worked with White Castle,  local contractor PAE and Associates  (who specialize in Wastewater treatment plant construction) and the consulting engineer on the job Facility Design Group, Atlanta.
The specifications on the project called for two of Wastecorp's Mud Sucker 3B Series Professional Diaphragm Pumps to draw process wastewater containing fats, oils and other liquids from a 13' deep lift station to an external rotary screen. In this sophisticated operation, the lead Mud Sucker is programmed to turn on when the wastewater reaches a depth of 5 ft. or when the wastewater reaches a liquid temperature of 82°F. The second Mud Sucker or lag pump is programmed to turn on once the wastewater reaches a depth of 6 ft. The combined pumps are programmed to operate at 100 gallons per minute with a flow meter installed on the discharge pipe to meter pumped wastewater. The Mud Suckers' then transfer the wastewater to an external rotary screen. After screening, the wastewater flows into a PH adjustment mixing chamber where the PH is monitored and acid or base is added as required.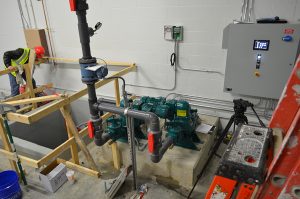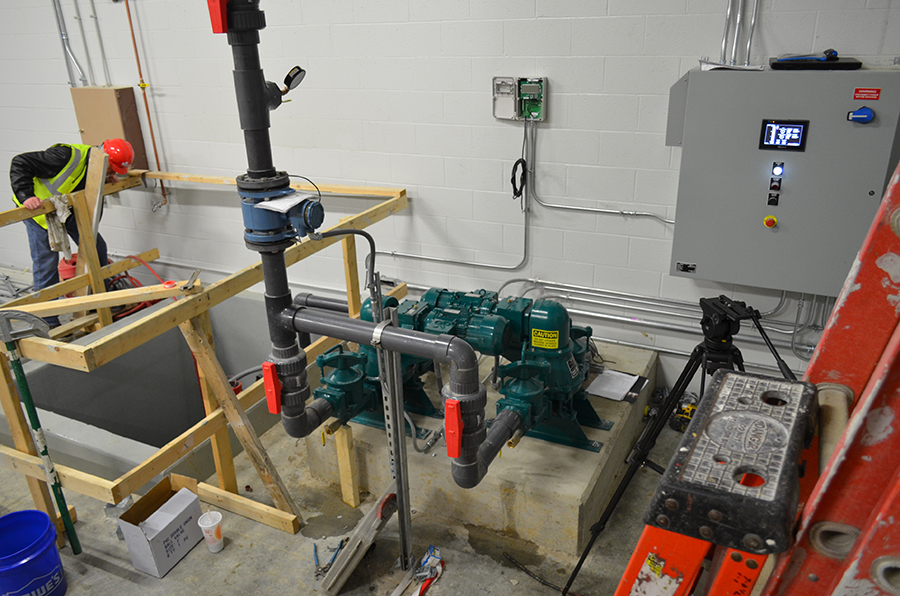 In this custom project, Wastecorp manufactured the Mud Sucker Diaphragm Pumps and supplied all of the control panels, and electronics based on White Castle's current needs and made provisions for an expanding facility down the road. An advanced NEMA 4 pump control panel with touch screen display, variable speed drive, thermostat, custom plc program and hand held unit allows the operator to easily monitor and make changes to the process. An innovative Waatco over the side heater ensures that the wastewater reaches 82°F to allow for proper oil/water separation.
When it comes time to plan your wastewater transfer process, Wastecorp provides the professionally designed and engineered pumps, control panels and optional equipment needed for a long term, high quality solution. Contact us today at 1-888-829-2783 or visit us at wastecorp.com