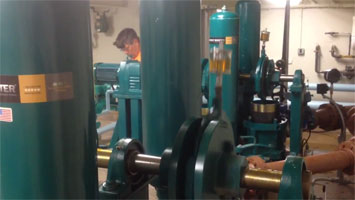 How to resolve sewage pumping problems at smaller WWTP's is a question on the minds of thousands of operators worldwide. These facilities pump municipal sewage, storm water, melting snow, road grit and so much more for smaller communities. While the gallons per day pumped may not be as high as urban sewage treatment plants, the need for reliable sludge pumps is just as great.
Wastecorp was contacted by a South New Jersey WWTP to provide upgraded sewage pumps to transfer wastewater, sludge and storm water from a smaller holding tank area. The pumps then transfer waste to both the facility's lift station and digesters. The sewage pumps were also specified to unload local tanker trucks delivering everything from septic waste to waste trap grease and other solids laden liquids.
Servicing the waste handling needs of local businesses not only provides a proper method of waste disposal, but also generates additional resources for the borough. Wastecorp worked with local contractors and Mount Laurel based consulting engineering firm Environmental Resolutions Inc. to provide solutions.
Wastecorp recommended that the facility go with two Sludge Master PE 942 plunger pumps to transfer up to 10% solids. Each pump is rated for up to 170 GPM of solids laden wastewater. These sludge pumps are equipped with the latest energy saving motor systems and are connected to a variable frequency drive system to control driver speed. With next generation gear boxes, these plunger pumps optimize productivity while conserving energy. Wastecorp also include pressure gauges to monitor pressure on the pumps and the facility included pressure sensors which helps to detect a blockage or closed valve in the line. Once a blockage is detected, the sensor shuts down the pumps immediately. Sludge Master plunger pumps are better able to manage the seasonal variations in sewage that are common in Northern States and provinces. You wont't find lobes, rotors or stators getting destroyed in a next generation Sludge Master Plunger pump. You will find a time tested pump technology that is made in North America and saves on lifecycle costs every step of the way.
Just because you operate a smaller facility doesn't mean you don't need big solution for your wastewater, sludge and sewage handling needs. Contact a pump company with over 20 years in the business for you next upgrade. Contact Wastecorp Pumps.