Case Study: Double Disc Pumps - Sludge and Sewage Pumps
Profile
Wastewater Pumping - Landfills
Model selected
Sludge Pro® 4DDWP™ Double disc pump
Flow rate
Up to 250 GPM
Fluid type
Wastewater, leachate and solids mixed with wastewater
Objective
Pump wastewater from a landfill application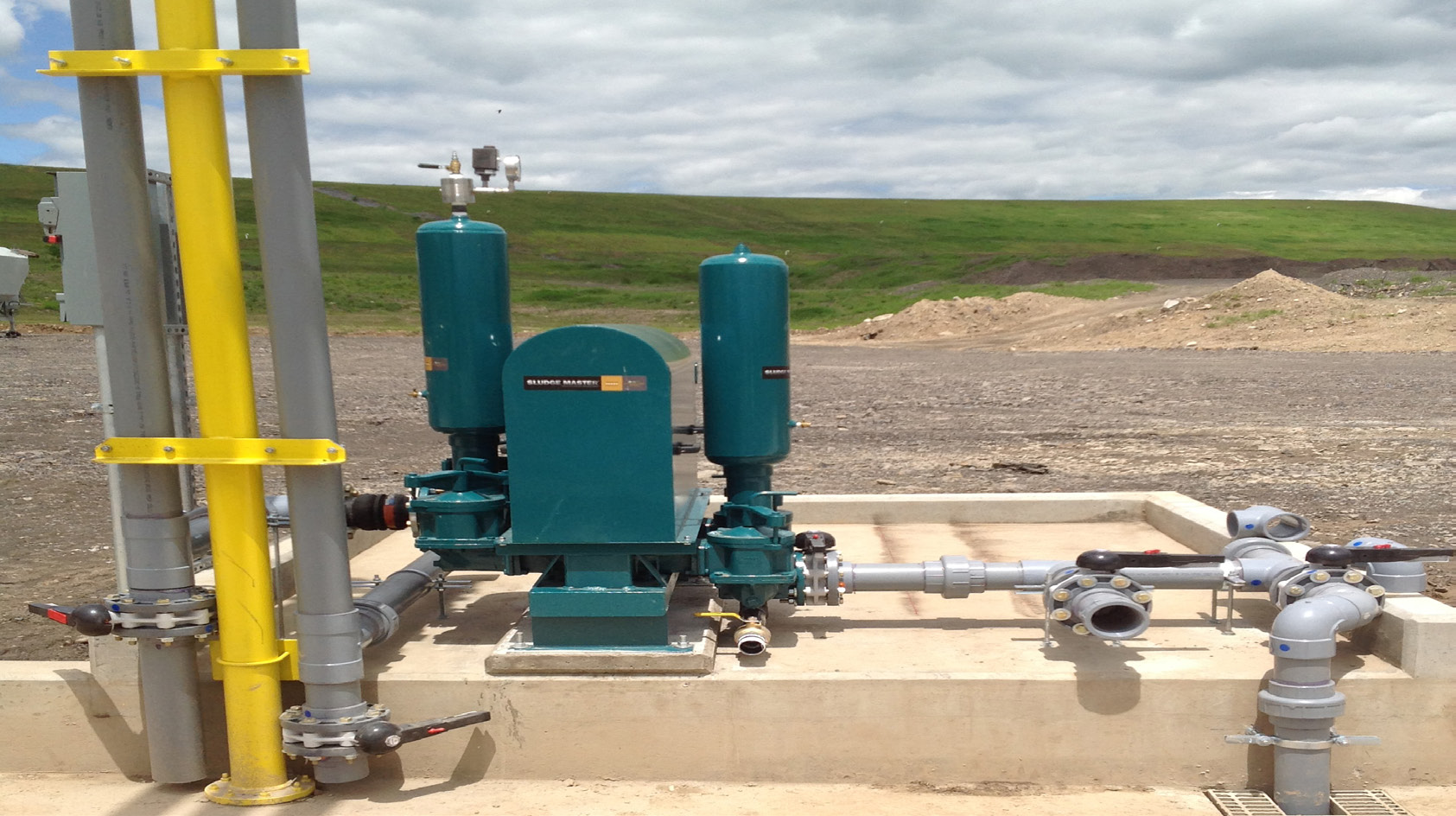 Wastewater Pumping - Landfills
Pennsylvania, USA
Background
Landfill wastewater pumping applications are a worldwide challenge especially here in North America. Pumps at landfills transfer grit, rags, sediment, wood chunks and other pesky solids that require severe duty pumping equipment to last the long haul.
Issue
North America's largest environmental solutions provider, Waste Management contacted Wastecorp for recommendations on their solids handling needs. Wastecorp has worked with a variety of landfills over the years in providing double disc pumps, trash pumps, diaphragm pumps, or plunger pumps. When a company like Waste Management serves over 20 million people in the United States and Canada, pumping equipment must be capable of handling the toughest solids a landfill can produce.
Solution
Wastecorp recommended the Sludge Pro 4DDWP for Waste Management's fluid handling needs. The 4DDWP is capable of pumping up to 250 GPM and operates between zero and 110 RPM. This is the lowest operating range of any double disc pump on the market. The lower RPM range allows the facility to extend the life of pump components which reduces spare parts costs down the road. The check ball chambers located on either side of the pump (see photo above) allows the operator to simply remove the valve cover and access the check balls inside in case of any blockages. This is a 10 minute procedure versus having to disassemble the Swan neck which may take much longer with other double disc pumps. Waste Management also selected an optional pressure sensor mounted on the air chamber (see photo above). The pressure sensor detects potential blockages in the line or closed valve. The pressure sensor may help prevent catastrophic damage to the pump in an over pressurization event. Since the customer's pumps are located outdoors, all wet section components are enclosed to provided added protection against the elements. Wastecorp represents over 18,000 pump installations worldwide including many in the landfill wastewater transfer market. Contact Wastecorp for a more robust double disc pump solution at your facility
Wastecorp has pumped wastewater for landfill applications for over 20 years using ball valve technology.
Wastecorp's newest solution for solids handling applications is a more robust pump with no regular maintenance using trunnions, discs and ball valves to move fluid.