Case Study: Public Utility - Glastonbury WPCF
CASE STUDY
INDUSTRIAL FLUID TRANSFER: Mud Sucker® Diaphragm Pumps
Profile
Town of Glastonbury WPCF Expansion and Upgrade
Model selected
Mud Sucker® 4BW-EC-M
Flow rate
Up to 110 GPM
Fluid type
Septage, raw sewage
Objective
Provide new septage receiving equipment for plant upgrade and expansion
Consulting Engineer
Wright-Pierce
Contractor
C.H. Nickerson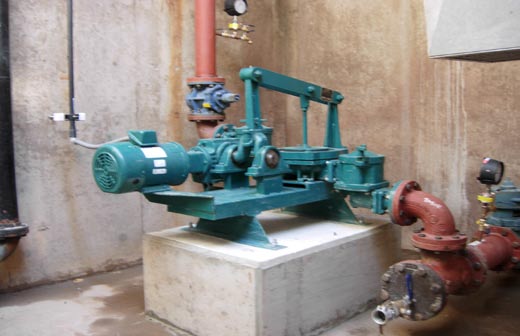 Town of Glastonbury WPCF
Background
The Town of Glastonbury is a central Connecticut town located less than 10 minutes from Hartford. Over 33,000 residents depend on the water pollution control facility for sanitary wastewater treatment services.
Issue
With a rising population and a large geographic area, the town has undertaken a major upgrade and expansion in recent years. The facility has seen success with mechanical walking beam style diaphragm for years, with minimal maintenance requirements or spare parts needs.
Pumping Equipment
Wright-Pierce Engineers specified the Mud Sucker walking beam diaphragm pump series with a 4" connection and fluid handling capabilities of 110 GPM. The walking beam series features both suction and discharge valve chambers that hold a 5 1/8" ball valve to help prevent clogging when pumping thickened municipal sewage. The pump also features a Santoprene diaphragm with an advanced seal to minimize leaks. Wastecorp worked with New England contractor C.H. Nickerson on the final training and installation services for Glastonbury's new Mud Sucker. With a proven track record for municipal wastewater treatment projects and heavy industrial pumping applications, Wastecorp is a worldwide leader in diaphragm pump manufacturing and training services .

The Glastonbury Water Pollution Control Facility has undergone an extensive upgrade and expansion in recent years.