Diaphragm pumps have had quite the evolution over the last few years with new innovations in diaphragm materials, pump body engineering, drive systems and overall design.  This evolution is mainly end user driven; more facilities face budget constraints and have thus demanded cost effective solutions for transferring wastewater and slurry (which diaphragm pumps have traditionally offered remedies).  Diaphragm pump manufacturers have responded by offering heavy duty pump models that transcend their usual application capabilities and now may be suitable for areas that submersible pumps and trash pumps once dominated. Here's a partial answer to how this evolution has happened:
Diaphragm Pump Design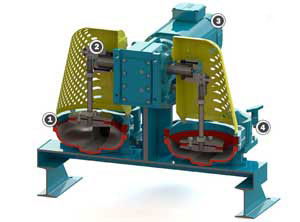 The diaphragm pump is now offered with a ball valve design. One manufacturer calls it their "Professional Series" because users of this pump technology tend to include applications with higher volumes of wastewater or slurry content such as the Federal government, military, food processing assembly lines, chemical and oil companies and marinas. What this diaphragm pump design includes is a check ball or ball valve to help break apart solids or improve the flow of thicker slurries like mud, blood or other residuals.  The fluid has a reduced chance to cake up in the pump body and valve chamber which may contribute to premature pump wear.
Diaphragm Material Changes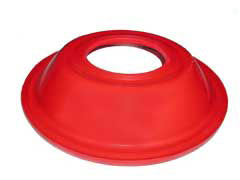 Depending on your application, the diaphragm  itself has generally improved significantly in terms of  longevity and fluid handling capability. Some pump  manufacturers have selected Santoprene as a diaphragm material for hot or cold environments or when the liquid temperatures vary widely. Santoprene generally resists abrasives more effectively and works well for oily substances, slurry and wastewater pumping.
Viton has also become a popular choice for diaphragm material as well. Viton is especially resistant to select chemicals and tends to wear better in applications with extreme work loads.
Model Selection
Gone are the days when there were one or two diaphragm pump model choices. Wastecorp for instance is a pump company who has invested in the advancement of diaphragm pump technology. The company has introduced over 75 new diaphragm pump models over the last seven years. Wastecorp's brand name for their diaphragm pump line is the Mud Sucker and is divided into four categories:
FA Series Diaphragm Pump – Heavy Duty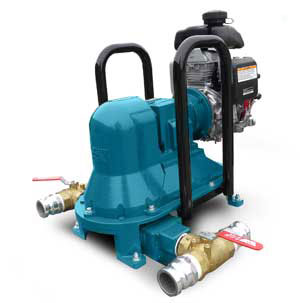 The FA Series is available in 2" or 3" sizes with an all aluminum pump body for light weight transportation. As with their entire diaphragm pump offerings, Wastecorp Mud Sucker's are available in single or three phase electric, engine, pneumatic or hydraulic drive systems.
B Series Diaphragm Pump – Severe Duty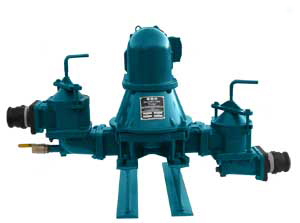 As discussed earlier, Wastecorp uses a patented designed with a valve chamber to help users break apart solids or help move thicker slurries. Pump models are available in 2", 3" or 4" sizes with up to 280 GPM capabilities.  The B Series is available  with either aluminum or cast iron pump bodies. Users of the B Series tend to select either stationary (base mounted) or trailer mounted pump models.
DD Series – Double Diaphragm Pumps
Mud Sucker double diaphragm pumps are not to be confused with air operated double diaphragm pumps. The Mud Sucker DD Series is a mechanical double diaphragm pump, which typically uses a gear box, and drive system to operate the pump.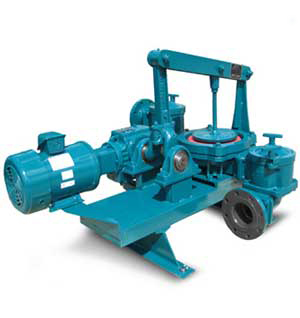 The BW Series uses walking beam technology to move harsher chemicals, wastewater or food processing waste. Most of the pump is engineered with cast iron components. End users can select stainless steel or bronze pump models as well for FDA food processing, mining or municipal sewage pumping.
With the evolution in diaphragm pump technology in full force, there are new opportunities for government and industries to get a cost effective solution for their unique fluid handling requirements. While you should do your homework when it comes to selecting the right pump reviewing specifications is always a good step. Reputable pump manufacturers usually have this information posted on their websites.