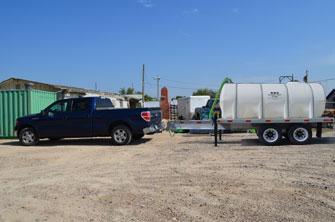 Lately, Wastecorp has been receiving an influx of concerned phone calls from ranchers and farmers looking for portable water transportation systems to manage rainfall shortages across wide areas of farmland and grazing fields. In some areas of the Western United States and parts of Western Canada, drought like conditions is affecting everything from fruit and vegetable production to livestock numbers. This affects the livelihoods of ranchers, farmers and the average consumer with higher prices at the grocery store.
What we typically tell customers when they call in for water trailer recommendations, "You should only need to buy a water trailer once, and when you do so, do it right. Don't cut corners." In the water trailer business, doing it right means constructing a trailer frame that will withstand the elements from blazing hot sun to colder, temperatures, dirt, and dust.
Related: See water trailer videos.
And, that's exactly the way Wastecorp builds every water trailer that leaves our factory. Every trailer gets completely dipped in galvanizing solution to resist corrosion for years to come.  We also work with you to determine what accessories you need now or may need down the road. This includes rear sprayers or side sprayers to water dirt roads, horse arenas or stables.  All hosing is premium industrial grade in various lengths to wash down cattle or water vegetables. Our pumps are heavy duty, high-pressure water delivery pumps designed to provide the correct output for your application. We also create large port openings in the tank so you can fill the tank from a lake, fire hydrant or garden hose. The best part is, Wastecorp offers over 10 tank sizes and trailer configurations. This allows you to get the water trailer you need and within your budget. The one thing you should never compromise on is a professionally designed water trailer that last for years to come.
Related: See the water trailer models available for your application