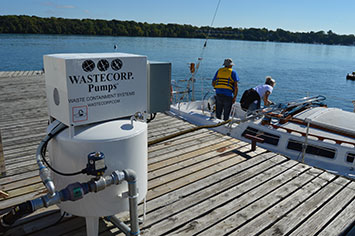 If you're looking to plan a new marine vacuum pump out system or replace an existing one this is a good place to start. Wastecorp is an ISO 9001 certified manufacturer of marine vacuum pump out systems for marinas. One of our marina customers recently exemplified what's on the mind of marina operators these days when it comes to planning a marina vacuum pump out:
Hi, we just bought a marina in Maryland and the pump out we have needs replacement. We are planning on expanding the marina with about 50 more boat slips which will bring our total to about 121. What we would like to explore is a marine vacuum pump out system that can pump out more than one boat at a time. We got quotes on peristaltic marine pumps and my buddy who has a marina doesn't like them; so that's out. The previous marina owner also told us
that more boaters are pumping out disposable wipes and other weird things in their boat holding tanks that makes having strong suction a necessity. We would like information on vacuum pumps that can sit on a dock and compare what a portable unit would cost. The idea is that we could use the mobile pump out during public holidays when the demand for a pump out is high. Please send your proposal. Thanks John L, Baltimore, MD, USA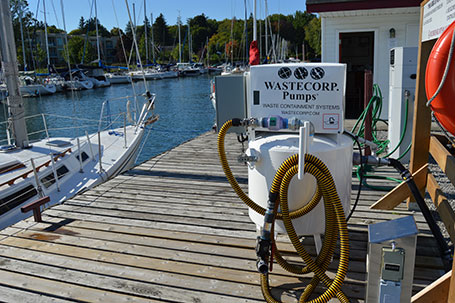 Well John, you have a lot of options when it comes to marine vacuum pumps for your new marina. We would recommend a Super Duty Marine Vacuum Pump WVP-450 Series pump out with automatic cycling technology. This is one of the more advanced marine pump outs on the market. If you order it with one of our stanchion's, the boater simply connects our universal pump out nozzle to the quick connect fitting and presses the color coded stop and start button on the stanchion. You can also get a wireless feature so the pump outs can be done from the office. The WVP 450 ships with a 3 hp motor @70 CFM which can pump out a variety of boats and from farther distances as well. The WVP 450 is a great way to pump out sail boats, cruisers, yachts and smaller boats as well. This marine vacuum pump can also be mounted on a trailer as well for a slightly higher cost.
You can also check out the marine pump out catalogue for comparisons on pump out units and your options available. Click here to see a marine pump brochure