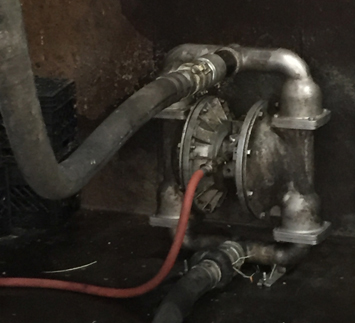 Ah Aod pumps. They have been around for years for pumping everything from wastewater to oil slurry to sludge. Almost every pump distributor out there has either pushed Wilden, Sand Piper or some other air operated diaphragm pump option at least historically any way. As these pumps age, end users and operators have the issue to grapple with: do I repair my AOD pump or do I replace it? Can I still tolerate my energy bill from Aod pumps or is there a viable alternative? A well known defense contactor pondered these questions and more with a query to Wastecorp's pump engineering dept.
"We are using Aod pumps side by side at our manufacturing facility to pump jelly type slurry wastewater and waste oil or a combination of that. These AOD pumps are costing us $1000 to $2000 a piece to rebuild. They provide poor performance and the energy costs are ridiculous. This is the 21st century, there has to be a better alternative!! What can Wastecorp offer? Tim K. –  Everett, Washington
Tim, years ago Wilden and Sandpiper were apparently what pump distributors were pushing when it came to diaphragm pumps. Some still do. That has changed with the emergence of Mud Sucker mechanical diaphragm pump technology. With the Mud Sucker you get a choice of 1.5" to four inch connection sizes with fluid handling capabilities up to 300 GPM. Unlike these Aod and AODD pumps, you aren't going to spend $2000 repairing them. Spare parts kits for Mud Sucker diaphragm pumps start at around $99.00 and go up to $400-$500.
Is it a "bait and switch" situation with the lower cost of AOD pump at the start and then huge repair parts bills down the road? Who knows, you be the judge. The Mud Sucker is higher in cost initially but certainly may cost several thousand dollars less over their lifetime than a comparable AOD pump make. But the best part is, in many situations a Mud Sucker handles tough wastewater and slurry applications with minimal downtime and reduced energy costs when compared to AOD pumps. Check out all the Mud Sucker models and get pumping smarter today.