As pump manufacturers, we have seen a surge in end users and pump distributors inquiring about alternatives to dry prime pumps mounted on either a skid or wheels. Some have complained about the repair parts and service needed for dry prime pumps. Others aren't thrilled about the big box multinational pump manufacturers' aggressive pushes of this type of product as one of the "only" solutions for trash pump style dry prime pumps. Jake R. from Milwaukee, WI describes a common application for trash pumps below:
"We are researching replacement pumps for our fleet of 25 dry prime style trash pumps for use across our facilities in Wisconsin, Minnesota and Indiana. One of our applications involves the pump transferring water from a river into two holding ponds. We use the ponds to pull water from when we run rock crushing machines. The intake and outtake on all of our trash pumps are 6" and the pump would sit about 20 feet above the river. The pipeline leading from the pump is a 6″ steel line and there is about 15 feet or elevation change from where the pump sits to the holding ponds. Our current pumps were capable of about 900 GPM and we would want something similar in terms of capacity. Please let me know if you have anything that would meet our needs and can be get discounted pricing for the 25 trash pump units? Thanks in advance Jake R. Milwaukee WI.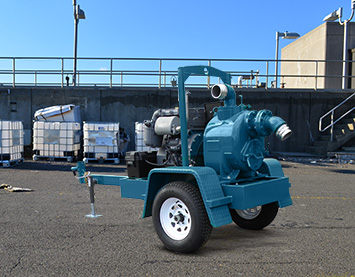 Well Jake you came to the the right place to inquire about dri prime, Super T Series alternatives and more. Wastecorp manufactures the Trash Flow Trash pump which is manufactured in North America. We offer 3", 4" 6" 8" 10" and 12" sizes with powerful Deutz Diesel engines or John Deere Diesel engines. The best part is delivery of up to 10 units can take as little as 3-4 weeks, the 25 trash pumps mounted on either a skid or trailer would necessitate a lead time of about 5-6 weeks. This is still among the shortest delivery times in the trash pump business.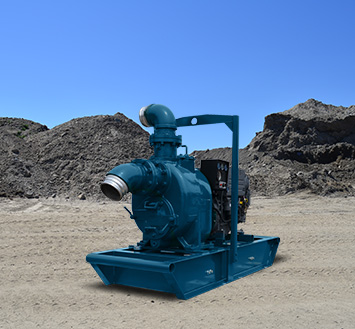 Wastecorp can standardize your trash pump fleet any way required. In the photo above for example we standardized 15 trash pump units for the US department of Defense. The government agency required vacuum assist, a great option for greater suction power, full fenders, a DOT lighting and electric brake package, 6" connection and rugged off road tires for maneuvering on uneven terrain.
Wastecorp allows you to design your mobile or skid mount trash pump any way you like it with prices starting in the $14,000 range, much less than any dry prime pump on the market. We work with trash pump distributors and end users alike to get the trash pump required. You can speak to a trash pump engineer at 1-888-829-2783, email info@wastecorp.com or www.wastecorp.com for more information.