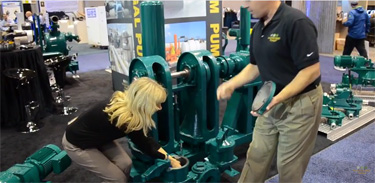 Wastecorp was recently at WEFTEC exhibiting our newest double disc pumps for the municipal wastewater treatment market and industrial fluid handling space. Wastecorp's Sludge Pro double disc pump marketing program continues to focus on building awareness with WWTP operators and consulting engineers that competition exists in the double disc pump space and the market offers a more robust alternative than traditionally known.
We have noticed that when a double disc pump for a WWTP upgrade or expansion goes to the planning stage and/or bid stage, we get calls from consulting engineers saying that the competition or their pump distributor make misleading or incomplete statements about double disc pump competition. What it boils down to is trying to eliminate competition. In America, we call this an attempt to create a monopoly. History has shown that monopolies are seldom good for competition in the pump business or any other business for that matter. History has also shown that monopolies in the United States aren't looked at favorably by either regulators or the public.
As a testimony to the above, (and If you can believe this) in some double disc pump bids, the manufacturer's own specification is simply copied and pasted into the project specification. Keep in mind, this is a public (government) bid and sent out for public tender. Obviously this is anticompetitive given that there are two or more manufacturers in the double disc pump space. This damages the competitive spirit that makes America great. When someone copies and pastes a double disc pump spec from any given manufacturer, it raises all sorts of questions as to why this is being done. One reason could be that some double disc pump manufacturers are still using the registered trademark symbol after the generic term "double disc pump". Wastecorp has seen this on Penn Valley Pump Company's website, for example. This not only misleads the public in believing that double disc pump is a protected term when it is not, it implies that there is no legal competition.
Consulting engineers can clarify their understanding of double disc pump technology by a review of the patents of the manufacturers. For example, on more than one occasion, a competitor and/or its pump distributors claim that Wastecorp's Sludge Pro Double Disc Pump derives from diaphragm pump technology. Upon review of the competitors patents however, you can see their own references made to diaphragm pump technology. Penn Valley patents and Wastecorp's Sludge Pro Double Disc Pump patents are all available online. So why does the competitor say that Wastecorp manufactures a diaphragm pump when their own double disc pump patent makes reference to diaphragm pumps? Do both pumps not incorporate diaphragm pump principles in their design? There have also been bids published with the bid subject reading "double disc diaphragm pumps". One could infer that the marketplace understands the double disc pump is a derivative or part of the diaphragm pump family.
When it comes to double disc pumps (double disc pump has been ruled to be a generic term in the marketplace) So why Penn Valley Pump Company has in the past or continues to use the registered trademark symbol beside the generic term "double disc pumps" in published advertisements and website content is beyond comprehension. Penn Valley Pump Company does not have a registered trademark on the term double disc pump. For more information about competition in the double disc pump manufacturing business, contact Wastecorp at 1-888-829-2783 email us at info@wastecorp.com or visit us at www.wastecorp.com