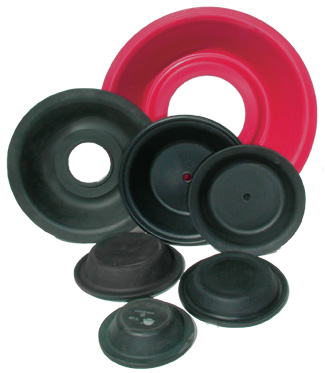 One of the frequent calls we hear from customers is that they either have an older diaphragm pump make or need replacement diaphragms for their newer diaphragm pump. Some genuine replacement parts are easier to find than others. The good news is that replacement diaphragms and other parts for almost any kind of diaphragm pump are available for pumps dating back as far as the 1940's.
The general procedure for measuring your current diaphragm and getting your pump back to operating condition is easier than you think. There are three general steps to follow to getting the pump parts you need.
Step 1: Measuring Your Diaphragm
Do three quick measurements. Measure the outside diameter (OD) of the diaphragm. Replacement diaphragms generally range from 5" and go all the way up to 15" OD's. Measure the height of the diaphragm. A tip here is to measure from the bottom of the diaphragm laying on a flat surface to the top. Finally, measure the inner diameter (ID) or the top of the diaphragm. This is especially important so your diaphragm parts supplier can establish where the diaphragm clamps onto the clamping plate.

Step 2: Selecting Your Diaphragm Material
Viton, Santoprene and Neoprene are generally the different varieties of diaphragm materials available. For general wastewater pumping, Santoprene and Neoprene have proven to be effective. For corrosive and abrasive fluids your pump parts repair person may suggest a different material like Viton. You should talk to a pump expert before making this decision however.
Step 3: Have your Pump Make, Model and Serial Number Ready
Your diaphragm pump parts provider can get information to you with greater speed if you have all of this information ready when you order. There are many pump makes out there like Mud Sucker, Mud Hog, Edson, AMT, Homelite, CH&E, Tsurumi, Wilden, Multiquip, Wacker are all makes that have been around for some time and each has their own diaphragm sizing and recommended materials.
Wastecorp is one pump manufacturer who also has a replacement parts division for many makes of diaphragm pumps. They also dedicate a website page to finding the correct diaphragm size. Check it out here