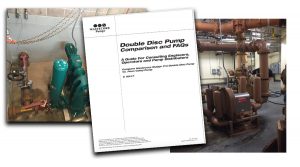 Wastecorp has published a double disc pump comparison guide for consulting engineers, end users and pump distributors. This resource explains the difference between two different pump types and the methods each use to pump sewage, sludge and wastewater. You can download this comparison guide by clicking here or continuing to read below.
Who is Wastecorp?
Wastecorp Pumps is an ISO 9001 and ISO 14001 certified pump manufacturer. Wastecorp manufactures the Sludge Pro brand double disc pump. The company specializes in sewage pump and wastewater pump manufacturing. This includes multiple products for municipal/industrial applications. Wastecorp has manufactured pumps since 1993 in the United States and Canada. Information about Sludge Pro Double Disc Pumps can be found at Wastecorp's double disc pump product info page
What is a Penn Valley Pump (PVP)?
The Penn Valley pump is a diaphragm pump. PVP has fully acknowledged this in their patent # US 7,559,753 B2. The patent references George Burrage's (a family member of PVP President) patent application # GB 2013287A as the basis of construction for the PVP pump. Nowhere in GB 2013287A does it reference a disc at all. This legal document fully acknowledges the fact that the Penn Valley pump is a diaphragm pump. PVP also references the use of diaphragms in all of their trademark registrations.
Double Disc Pump Comparison Links