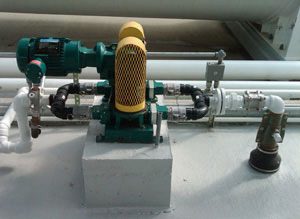 At airports around the world, storm water gets mixed with jet fuel during storms and must be properly pumped and treated before returning into the waterways. Most airports have stormwater pumping stations to prevent flood damage, protect the water supply and capture runoff before returning to canals, levee's or the general water system.
Pump Systems for Airports
There are several options airport authorities, general contractors and airlines themselves can use to manage storm water and wastewater pumping at maintenance facilities
Wastecorp recently supplied our Mud Sucker double diaphragm pumps for an airport pump station upgrade in Pennsylvannia, USA. With santoprene diaphragms (designed to pump petrochemical residuals such as jet fuel), these pumps are well equipped to manage the high volume of water and debris that are frequent in the area. The 3FA-DD shown here is capable of transferring up to 160 GPM, with standard Siemens gear boxes and motors. Airlines, passengers and the general public can get on with their day a little easier after a storm with the Mud Sucker double diaphragm series.
Pump Lift Stations for Airport Storm Water Pumping
In Florida USA, airport engineering firms have specified Wastecorp Trash Flow lift stations to manage higher volumes of wastewater with above ground lift stations. These prepackaged lift stations manage solids from airport restrooms, debris from storms and grit. Lift stations include control panels, pumps and optional enclosures.
Airport Expansions
When airports get upgraded they usually involve consulting enginnering firms and construction companies and contractors. Wastecorp has worked with engineers and contractor to provide pumps where fluid may have to be pumped long distanced. For airport expansions we recommend Trash Flow Dry Prime Pumps.
Airport Facilities Maintenance
From landscaping watering needs to pumping and containing contaminated fluids, oil and fuel, Wastecorp has solutions for airport facilities
In Illinois, a leading airline uses Wastecorp water trailer to haul fresh water around aircraft hangars for landscaping water needs and providing fresh water for facilities maintenance
In Ontario Canada, an airport authority uses Wastecorp waste containment systems to pump spilled hydraulic oil and jet fuel from an aircraft maintenance area. Airport crews pump the fluid into a containment tank and then properly dispose of it later using the same pump to pump it out of the tank.
In Atlanta, GA one of the world's largest airports uses Mud Sucker diaphragm pumps to transfer waste oil and grease trap waste from airport dining facilities.