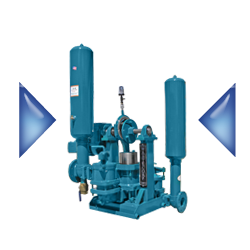 It's a common problem faced by many wastewater treatment facilities', how to select a pump to move heavy sludge with enough power and endurance to last through the long haul. One solution to this problem is a pump with an in-line piping design like the Space-Saver plunger pump. Many facilities have seen success with this pump especially those replacing a double disc, rotary lobe, or progressive cavity pump.
The Space saver plunger pump does not require a concrete base, which makes replacing any type of sewage pump quick and trouble-free. In most cases, the old pumps are simply replaced and the new Space Saver simply dropped into place. The Space Saver is available with a 7", 9" or 11" piston size and can transfer up to 140 GPM (8.8 lps) of municipal or industrial sludge.
In our case study feature, you'll see a Memphis, Tennessee area sewage treatment plant which recently installed a Space Saver after trying double disc and progressive cavity pumps. The facility operates this pump for at least eight hours each day and other than general maintenance procedures, the pumps have run perfectly. Click here for more information on the Space Saver sewage pump.