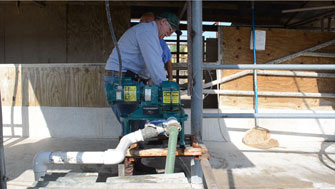 With agricultural wastewater pumping needs, both government and industry have the challenge of finding pumping equipment that can handle chemical based wastewater like insecticides and PH balancing solutions plus wastewater manure, hair and other solids.
Related: see a case study video on a cattle bath pump system
A case in point is the United States Department of Agriculture's (USDA) need for professionally designed diaphragm pumps to serve the needs of its cattle inspection stations in various parts of the country. After a trial run of trash pumps failed to produce the required results, the USDA called on Wastecorp to design a pump that can incorporate severe duty lifecycle requirements to pump wastewater containing manure, insecticide, chemicals, hair and other solids.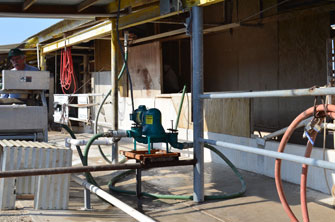 In some of these operations cattle are offloaded to the inspection station and receive a thorough examination by veternarians and USDA staff to check for desease causing insects and other abnormailities which may render the animal unsuitable for human consumption or pose a threat to other livestock. After the initial examination, cattle are sent to a bath that includes an insecticide designed to control fever ticks, scabbies, horn flies, lice, screw worms and more which is a constant battle for government inspectors and ranchers alike. The animal is fully immersed in the solution and then enters a controlled area where the insecticide can do its job. After a predetermined period for the cattle to dry, they are released to enter into the next stage of the food processing system.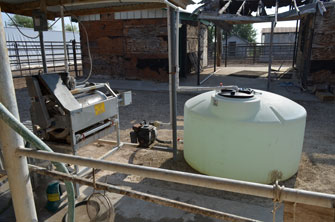 After the inspection and insecticide application stages are complete the The cattle baths must be carefully pumped out with solids and slurry separted from the wastewater which is trucked out for further treatment. At this facility, a potty wand is connected to the Mud Sucker to prevent large items like hoofs and horns from entering the pump. Any remaining solids are sent through the pump to a grinder with the remaining fluid achieving a slurry like consistency. With new cattle continuously entering the inspection process, the USDA expects a highly productive pump that requires little maintenance and even less down downtime. The Mud Sucker B Series professional delivers.
Related: See specialized agricultural diaphragm pumps for wastewater applications