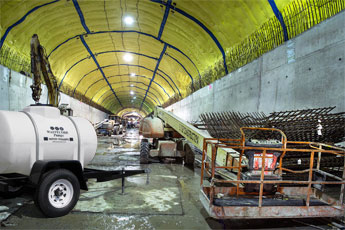 When selecting fresh water distribution equipment for construction sites, mines or public works needs, make sure you check the water trailer specification to ensure that the product can stand up to the harsh conditions on your site. You want to make sure you understand how you will be filling and discharging the water trailer on a regular basis so you have the right configuration for your needs.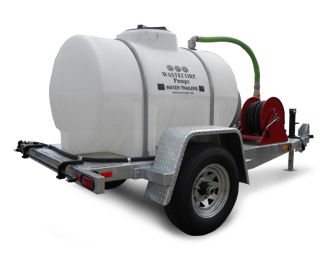 The water trailer you see here has a galvanized deck and frame system with no wood in site. What this does is keep moisture from corroding critical components while providing a more stable water hauling method on uneven or winding roads. Most people forget that a full water tank load weighs hundreds or even thousands of lbs depending on the model you select.
Next, examine what kind of components you need to fulfill your specific tasks. On construction sites, water trailers are used to provide fresh water for machines, cool saws, sanitation needs, dust control and clean up. Most likely, you will be filling the water trailer off site via fire hydrant or other municipal water source. Thus, a large opening at the top will help to fill the tank quickly using a variety of hose sizes.
Mining and public works applications are a different story. Most mining customers need to fill the tank from a lake or a reservoir area. Sometimes, the water trailer can't get close to the lake because of the incline, decline or elevation. Thus, a long hose reel is required so that you can pull the water using the high pressure pump anywhere from 50 to 100 ft away from the source. The photo you see here shows a dual hose reel system. The reel on the left features industrial grade hosing for wash down services or spray applications. The hose reel on the right features a heavy duty 100 ft. discharge style hose when either emptying the tank or providing back up fire suppression services.
Lastly, the quality in water trailers really does vary widely these days. The old adage that "you get what you pay for" is true in the water trailer business as it is in any other. Make sure you check the specifications of your manufacturer before ordering. And make sure you understand your water hauling needs. See a selection of water trailers, water buffalos and water wagons here.