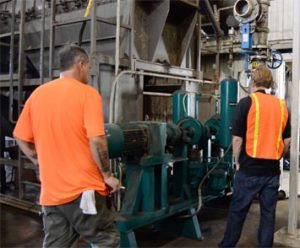 Orange county is home to dozens of resorts, hotels and theme parks which generate tens of millions of gallons of wastewater that needs to be treated every year. When an Orlando, Florida renewable energy company earned a multiyear contract to accept waste from local resorts and theme parks, they needed severe duty pumps to transfer thick slurries and solids.
The details of the project called on the requirement of pumps to transfer ground up seafood shells, grease trap waste, utensils, animal renderings, wastewater and more. In this application, the waste is unloaded from a tanker into a waste pit. The waste is then transferred to a conveyor system which then separates most of the foreign objects like utensils, large solids, plastic bags and more. The remaining waste is sent through the Sludge Master plunger pump and then to the digesters of the wastewater treatment plant. With millions of people visiting Orlando resorts and theme parks every year, this amounts to a lot of waste, as tanker trucks deliver new loads of slurry like liquid waste around the clock.

Working with Wastecorp, the company decided on a Sludge Master PE 942 with a 20 hp motor and mechanical force feed oiler for automatic lubrication of critical moving components. The pump operates seven days a week , so the pump design must be capable of severe duty conditions. The Sludge Master Plunger pump is designed and manufactured in north America for operating pressures up to 84 psi. This time tested pump design includes check balls to manage thicker slurries and solids. In this unique design, if a foreign object becomes lodged in the valve chamber, the valve cover can be removed in minutes to access a blockage. In comparison, Many other pump makes require the piping and the casing to be removed to access the blockage which may take several hours. With the use of sheer pin technology on the Sludge Master Pump, any blockages in the line will sheer the pin for the pump's rotating assembly instead of completely overpressurizing the pump. As most pump operators know, over pressurizing a positive displacement pump may lead to catastrophic damage.
When selecting your positive displacement pump for waste water transfer applications, make sure your pump manufacturer has a proven track record and reputation for producing, high quality, high performance pumping equipment for the long term.