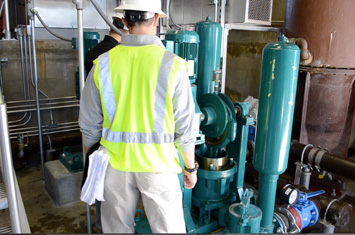 With tough sludge pumping applications like those found at municipal Wastewater Treatment Facilities, (WWTP's) having the right primary sludge pumps can help reduce hassles and your spare parts budget down the road. This was just the case for the City of Meridian's recent wastewater treatment facility upgrade and expansion in Meridian, Idaho.
The City of Meridian has utilized ball check technology for years to help move tough sewage and sludge. Ball check technology enabled pumps have moved trillions of gallons of raw sewage worldwide for over 50 years and is the back bone of Wastecorp's plunger pump, professional diaphragm pumps and now our double disc pump product line.
When it came to specifying new pumping equipment for the City of Meridian's expanding needs, Consulting engineering firm CH2M Hill and local contractors CNI Contractors Northwest didn't mess around, they went with a proven performer in Wastecorp's Sludge pumps using ball check technology. Wastecorp designed and manufactured five pumps – two for primary sludge process and three for Meridian's thickened fermented sludge operations. The pumps were designed with 5 hp vertical shaft mounted inverter duty rated motors connected to Meridians Variable frequency drives. This provides the ultimate in space saving and sludge pumping capabilities
Meridian's sludge pumps are designed to pump between three and thirty feet of head with fluid handling capabilities up to 200 GPM. Meridian included the latest flow meters, discharge pressure gauges and high wear life components like bronze connection rod inserts to maximize productivity.
Get the real ultimate sludge pump with Wastecorp Plunger, double disc or diaphragm pump utilizing ball valve technology, a proven sludge fighting design for municipal and industrial pumping for over 50 years.
For more in formation on wastecorp pumps visit wastecorp.com or call us at 1-888-829-2783.