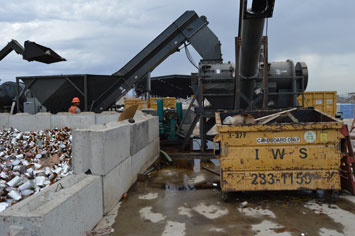 The challenge for food waste processors is finding pumps for their applications that are versatile and robust enough to pump through a variety of conditions. This was just the case for a Fresno, California based
alternative energy company who earned a multi-year contract to accept expired and spoiled canned tomato paste, tomato sauce, fruit juice, ketchup and bulk tomatoes for Fresno and Bakersfield area grocery stores, prisons, hospitals, food preparation companies and more.
The company then transports the tomato slurry mixture to farmers and ranchers to use as fertilizer and feed for livestock. Fresno, California is one of the largest tomato growing regions in the world, so the alternative energy company operates around the clock to pump slurry to waiting tankers.
In this unique operation, full or partially full containers of tomato waste are loaded into a conveyor system. The containers are crushed and compressed and the food waste is separated from the containers into a separate hopper where the Wastecorp Sludge Master Plunger Pump pumps the slurry from the hopper into a 7,000 gallon tanker trailer. This PE 942 manufactured by Wastecorp has an over 50 year track record pumping everything from crushed vegetable slurry, chocolate, animal fats, animal renderings fruits and so much more. This robust positive displacement pump uses plungers or cylinders accompanied by check ball technology to pump from 2% up to 18% solids . For many food processing facilities, this enables the pumps to operate on a 24 hour operating schedule and can handle variations in fluid consistency.
As a testimony to American ingenuity, almost nothing is ultimately wasted in this process. The expired tomatoes are reused on farms and ranches and the containers are sold to buyers of aluminum, plastic and other recycled materials.
When considering your need for a robust food processing pump that has an impeccable trach record for quality performance and long life cycles consider the ultimate in Plunger pumps, the Sludge Master Plunger pump, manufactured by Wastecorp. Wastecorp has already serves the pump needs of many food Processors including, Nestle, Cargill, Tyson Foods, Mondelez, Kraft Foods, Maple Leaf Foods, J.M. Smucker Company, Parmalat, Pilgrim's Pride, Mars Inc. General Foods and so many more.