If there was any doubt that municipalities are still dealing with the aftermath of the east coast's hurricane last year, a recent project Wastecorp worked on for the Coney Island WWTP dispels that myth. parts of Coney Island Wastewater treatment plant – located in the Southwestern part of Brooklyn, New York, suffered severe damage during Hurricane Sandy's fury a few years ago. The aftermath of such storms is particularly devastating to public wastewater treatment facilities because it can take months and in many cases several years to obtain engineering approvals and funding to repair the damage.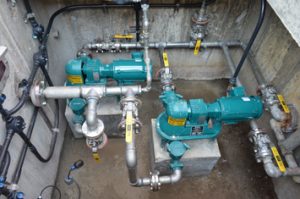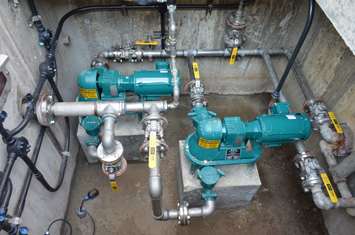 This was just the case for Coney Island's condensate vacuum pump operations located less than one hundred feet from an inland waterway that flows into the Atlantic Ocean. Salt water destroyed the existing mud hog diaphragm pumps, valve systems and electrical panels causing tens of thousands of dollars worth of damage.
Wastecorp worked with New York City's Department of Environmental Protection Bureau of Water Pollution Control Plant Operations, local contractor Delphi Plumbing and Heating Inc. and Wastecorp's area representatives Dave Heiner and Associates To find solutions for the new pumping equipment needed.
The DEP specified Mud Sucker Diaphragm Pumps model 2B-EC (professional pump series) With an energy efficient next generation Baldor explosion proof three phase motor to replace the damaged pumps.
The Mud Sucker 2B Series features ball valve technology to manage sewage, slurry, solids and condensate applications. These pumps feature a very simple operating principle, but make no mistake; they are designed to pump the tough stuff. The facility selected a 2" connection but all Mud Sucker 2B Series can be coupled down to 1 ½" connections. The 2B can pump up to 20 GPM with 20' of vertical suction lift and up to 50' of vertical discharge head. These Mud Suckers can pump up to 22 psi of pressure.
Coney Island also installed new control panels to maximize energy efficiency and productivity out of their new Mud Sucker pumps. While inclimate weather and natural disasters are difficult to predict, it is nice to know that a pump manufacturer with the expertise to help plan a project from initial engineering specs right through the lifecycle is available to WWTP's of all sizes. Contact Wastecorp for more information at info@wastecorp.com or 1-888-829-2783