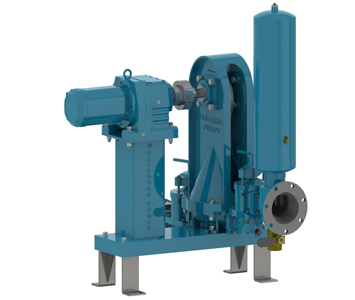 For years, we have been asking wastewater treatment plants (WWTP) what they like about double disc pumps and what they don't like. We have even been compiling a database with what regions of the USA and Canada have success with this type of pump for sewage and which areas have had more challenges.
One of the things that most WWTP's say is that there has been limited competition in the specifications put out for bid by municipalities and consulting engineers working on wastewater projects.  As we all know, a monopoly in the pump industry is seldom a good thing for quality, innovation and of course pricing for pumps and parts. There have also been some start and stops with competing technology from under financed companies trying to knock off the design with "dia-disk" pumps, etc.
The other major suggestion from operators is that double disc pumps have to be able to handle grit and solids more effectively. Otherwise they say, they would rather go with a plunger pump, diaphragm pump, rotary lobe pump or a progressive cavity pump.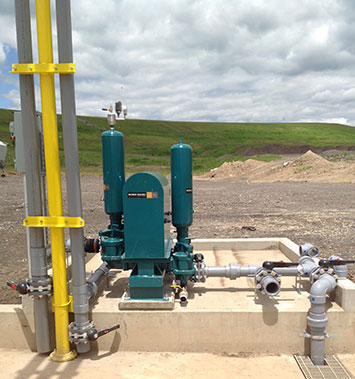 So a few years ago, Wastecorp put its young and talented engineering team to work combined with our 25 year pump manufacturing excellence track record and launched a double disc pump product line under the brand name Sludge Pro®. Waste water facilities Wastecorp has been working with for decades trusted the company to perform field tests where we perfected the design. We took into account all of the things pump operators like and don't like about the traditional red disc pump, like having a casting hang over head when doing maintenance and relatively small 1″ solids handling capability. Not any more. Wastecorp changed all that. Now, to be clear, the Sludge Pro Double Disc Pump is not a Penn Valley clone. After all, Wastecorp has over 25 years of experience designing and manufacturing some of the most advanced sewage pumping equipment in the world.
Looking a Double Disc Pump Comparison?
View double disc pump comparison guide
The Sludge Pro double disc pump takes the best elements of disc pump technology and combines a check ball design to manage heavier sewage and sludge. Wastecorp offers over 30 variations of the double disc pump with 3", 4" and 6" connections with fluid handling capabilities up to 500 GPM. The pumps can also manage higher operating pressures with maximum discharge head capabilities up to 184' or 80 psi. Unlike the Penn Valley pumps you can get single or double disc configurations depending on your needs.
With no regular maintenance required and a leak-free design, the Sludge Pro is operator friendly. There is no regular lubrication required or fiddling around with component adjustment. The best part is, Wastecorp offers a free trial program called "Try before you buy" for all double disc pump models. You call 1-888-829-2783 and a technical support representative helps you size the correct pump for your application and you're done. You can also contact Marc Johnson at mj@wastecorp.com for more information about this exciting new alternative in double disc pump technology.