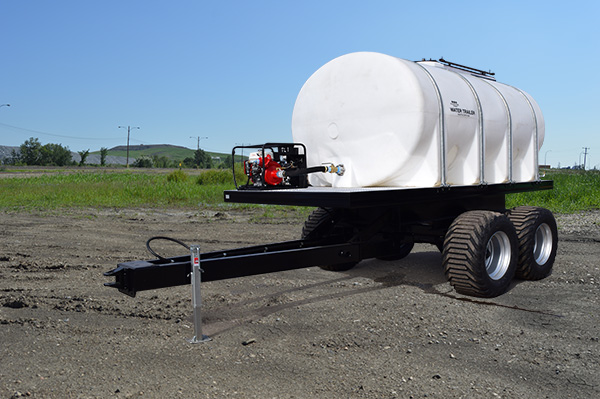 Whether you own a small farm or are part of a commercial farming organization, the need for mobile water distribution systems is critical to a successful crop and harvest. Wastecorp has designed a series of agricultural water trailers under the Bigfoot™ brand name for farms of all sizes.
The WT-2600™ Big foot pictured above features a tandem axle with flotation tires to maneuver easily through mud and soil. A variety of landscape and agricultural tire treads are available for either minimal impact on fields or maximum traction. Our standard connection will attach to your tractor or large truck. With a 2635 gallon tank that can be filled with the pump or by hose you'll have plenty of capacity to water crops in large fields. Smaller and larger capacity tanks are available.
The Bigfoot Series also offers several custom options depending on the needs of your farm. Select from electric actuators with wireless remotes so the system can be turned on and off from the comfort of the tractor cab. All water trailers are available with rear and side sprayers that can be adjusted based on the desired coverage.
Our high pressure water pumps feature Honda electric start engines for optimal dust control or crop coverage. Spray valves can be positioned in a variety of locations to maximize efficiency.
Contact Wastecorp today to get more information about bigfoot water trailers for agricultural use. info@wastecorp.com or 1-888-829-2783.
Resources:
Water Trailer Brochure