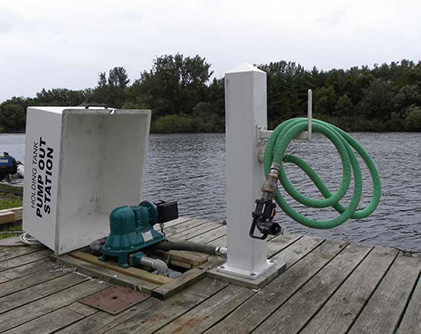 When it comes time to plan a new marina pump out system, many customers understandably find it challenging to know where to begin. Some have an idea of what kind of pump they need but aren't sure about how to configure the pumps and piping. Throw in other elements like pumping up on an incline and it can get really tough. John S. operates a marina in Washington State and he posted the following question in our forum:
Q: "I need to outfit our 200 slip marina with new pump stations with one larger pump to feed the sewage up a 100 ft. hill at approx. a 6 degree slope. The problem is that our slips are spread out without a consistent layout. What kind of pump system do you recommend?" John S. Seattle, WA

A: The best idea is estimate the amount of traffic in the busy season. The number of pump out units you will need depends on how many boats you intend to service at once. Many marinas with 100 slips or more typically have between two and eight pump out collection systems. To extend the life of the pump out, select a pump out system with an enclosure to protect it from the elements. Most marinas are able to use a 1.5" pump connection with universal attachments to pump out any size of boat holding tank. The pump stations can connect to a larger pump unit to move the wastewater to another area like a collection basin.
Wastecorp also recommends Vacuum Pumps for higher suction needs in multi-slip marinas. Our Super Duty Marine Pump Out Systems can pump out up to four boats at the same time. Check out your marine vacuum pump options here.
Pumping the wastewater up a 100 ft hill to a holding tank would require a strong enough pump to move the bilge waste up the incline. We would typically recommend a 4" double diaphragm pump or even a 3" self priming centrifugal pump. A basic sketch or photographs of your docks and facility can be of great assistance to your customer service representative when calling in so be sure to include these if you can.