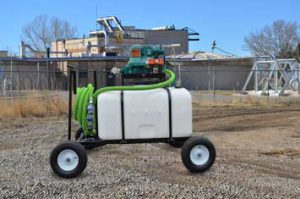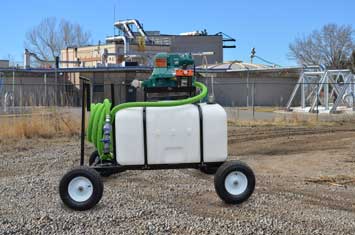 Honey wagon waste containment systems are used across a wide range of industries and have endless application uses. Waste containment systems are used to pump out wastewater, oil or septic waste from storage tanks, lagoons, barrels and more. The national gas industry requires honey wagons as well. From natural gas well process uses, wastewater containment and facilities management, portable waste containment systems play a valuable role in collecting wastewater and safely transporting is to an environmentally responsible dump station. With the advent of fracking, our customer base for waste containment systems in New York State, PA, Virginia and Kentucky has rapidly expanded. Dustin R, from Lexington, KY recently contacted Wastecorp about a new pump out system for his Natural gas company:
"We are looking for a mobile tank system to drain used oil tanks. The pump we would like to use is an air driven diaphragm pump and a tank capacity in the 500 gallon range. We would prefer to use a steel tank but we would be interested in seeing a proposal for other materials as well. The system does not need to be DOT compliant but we will take one that is approved for highway use if available. What options does Wastecorp have?" Thanks Dustin R. – Lexington, KY
Dustin, you have several pump out options available in this area. First, in the photo you see above, this is our standard air driven diaphragm pump out system capable of up to 20 GPM, which is typically plenty of capacity if you are transferring from used oil tanks. This is a more compact system with a 200 gallon tank and a four wheel cart style system to be transported via a utility vehicle, tractor, etc. The systems you see below are the larger tank systems mounted on galvanized trailer frames. These are available up to 2500 gallons.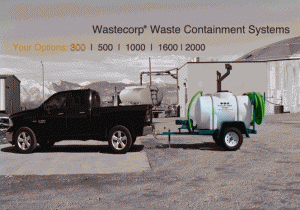 The pump out systems come with everything you need: industrial grade hosing, valve system to pump both into and out of the tank and of course our Mud Sucker Diaphragm Pump. You have options for your air driven unit like silencers, and regulators as well.
Steel tanks are typically available but cost more than our standard polyethylene tanks, which are also FDA compliant. These are thick wall tanks that are designed for industrial wastewater applications and hundreds of customers in natural gas and power generation wastewater applications have had great success with them. Wastecorp.com is also a good source for info relating our pump out systems.