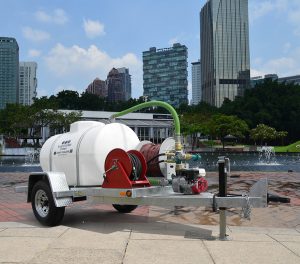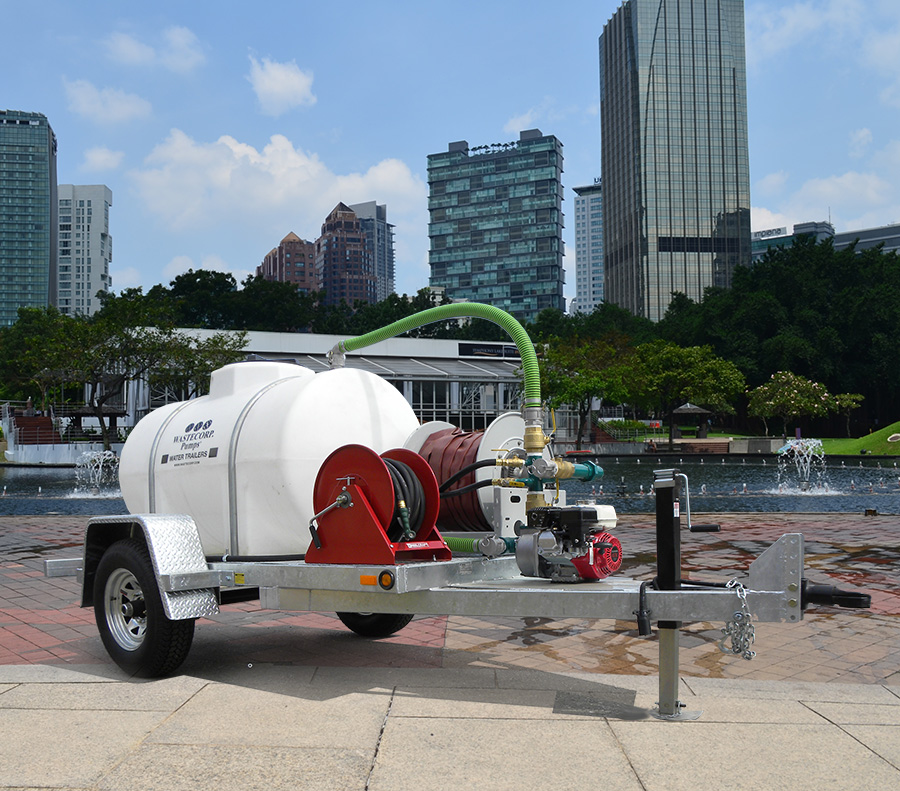 Wastecorp is pleased to announce our water trailer pump products. Water trailers, (also referred to as  "water buffalo" or "water wagon") provide fresh water distribution using a high pressure trash pump or diaphragm pump.  These water distribution systems are used to control dust on construction sites, cement cutting water needs, landscaping, paving companies, special venue water services and military water distribution needs. Water trailer also are available with components for NSF compliant drinking water applications used for special events like marathons and festivals, disaster relief and humanitarian assistance.
Water Trailer Tank Sizes
Wastecorp water trailers are available in sizes ranging from 150-5000 gallons directly from Wastecorp or qualified dealers in the USA or Canada. The best part is, your water trailer is manufactured by Wastecorp Pumps with hosing, check plate galvanized deck material and frame, so you're getting a professional system by a professional ISO 9001 certified water trailer manufacturer.
Water Trailer Fill Options
Wastecorp water trailers can be filled by municipal fire hydrant, fresh water ponds or garden hose
Water Trailer Tank Options
Black Polyethylene (reduces harmful ultraviolet rays, algae growth) designed for long term storage
Translucent polyethylene: Designed for constant use with water markers to easily identify contents
Stainless steel tank with choice of inner liner – Designed for military and special purpose applications, you choose the stainless steel water tank and liner for your application
Water Trailer Components
Military grade water trailer available
NSF compliant water trailer for drinking water
Dual water tank options
Fiber glass or steel step fenders
Zinc coated hardware
Complete hose system
Fire hose package available
Military hose package available
Choose from an automatic start Trash Flow TFX-3 Trash pump or Mud Sucker Diaphragm pump.
How to Buy a Water Trailer
Water trailers are available for purchase or lease. Wastecorp has several financing options for your new water trailer if required.
Water Trailer Photos
The following water trailer sizes are among the most popular with customers: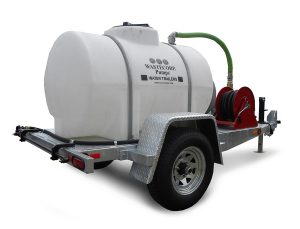 325 gallon tank. Optional dual hose reel shown (professional grade). Discharge hose reel in grey and watering hose reel in red. Exclusive galvanized deck and frame for corrosion resistance.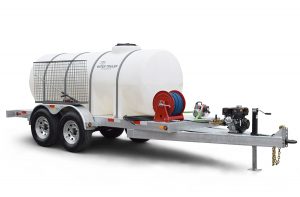 1025 gallon water trailer.  Optional Reel Craft hose reel shown. Tandem axle, rear sprayers and side sprayers. Can we used for fresh water delivery or fertilizer distribution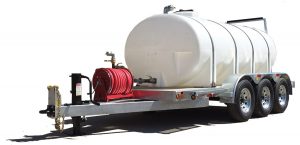 WT-1600 Series Water Trailer
1600 gallon fresh water tank with triple axle trailer. Optional LED light tower for working at night. Galvanized deck and frame. Leasing and financing for your water trailer is available.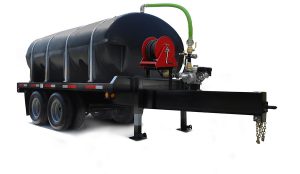 2035 gallon water trailer shown with black fresh water tank with dually axle trailer and air brakes.