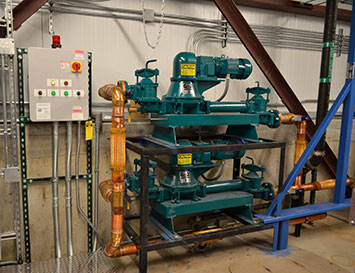 Technology giants like HP, Microsoft, Apple and Amazon may not seem like the typical consumers of pumps for process wastewater, back wash and cooling processes. But Wastecorp is seeing much more pump inquiry activity from contractors and high tech end users in California's Silicon Valley, New York's Silicon Alley and data centers across the country.
A case in point is Wastecorp's recent project with an HP research facility in Colorado, USA. We worked with a local contractor to provide
pumps and systems for HP's state-of-the-art research facility. HP's facility seeks to reduce IT sprawl, increase energy efficiency and reduce power consumption, all in an effort to help their consumers focus on innovation instead of worrying about their carbon footprint.
Wastecorp went right to work for HP designing and manufacturing two Mud Sucker 3B Series Professional diaphragm pumps to pump cooling tower condenser water, also called backwash pumps. The pumps were designed to continuously pump the condenser water between 60-80°F. In keeping with HP's goal of exploring new strategies for reducing the environmental impact of next-generation data centers Wastecorp designed the mud Sucker with energy saving Siemens 3 phase motors and Sew Eurodrive gear boxes. Hp's Mud Sucker's were designed in an inline-piping configuration to save space at the facility. Santoprene diaphragms were included to help maximize component life with higher temperature liquids being constant.
As more technology companies design data centers and data storage facilities to house the servers that power the 21st century economy, Wastecorp's Mud Sucker product line is providing the pumps and packaged wastewater systems to help these companies achieve power reduction goals for process wastewater pumping, while gaining the latest pump technology to solve backwash pumping problems. Tech companies and contractors can reach Wastecorp at 1-888-829-2783 or info@wastecorp.com