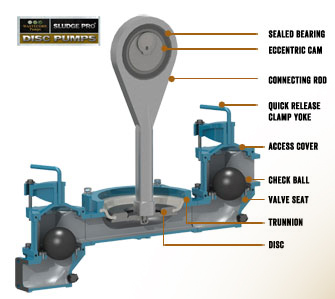 We have all seen the outside of a double disc pump but rarely do we see what makes the pump actually work. Just to review, a double disc pump is a positive displacement pump that uses a trunnion (elastomer), a disc and a connecting rod to force sewage from the suction side to the discharge side of the pump by creating a vacuum inside the pump body. The suction and discharge valve chambers (with the black check valves) you see in the photo help to manage higher than normal concentrations of grit and solids in municipal wastewater.
In the patent pending Sludge Pro double disc pump design, wastewater flows into the suction side where the check balls help to break up and manage solids, plastics and rags. The fluid then meets the first disc and trunnion, which creates a vacuum- like suction inside the pump body and forces wastewater to the discharge side. With a dual ball valve configuration on the suction and the discharge side, it's like providing an extra layer of protection when pumping higher concentrations of grit and solids.
Run The Double Disc Pump Dry With No Damage
The Sludge Pro can run dry indefinitely without damage to any component of the pump. If you operate other types of sewage pumps without fluid in the pump casing or pump body, catastrophic damage to the pump happens in a matter of seconds or minutes. You can only imagine what the repair bill would be in such a circumstance. See the features section of Wastecorp's Sludge Pro Double Disc Pumps for more information on how the pump works.