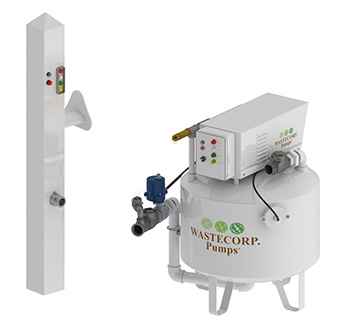 One of the best ways to pump out boats ranging from 22' all the way up to 200' ferries and commercial vessels is by using a vacuum pump. The higher suction power can pump disposable wipes and other solids found in septic waste relatively quickly so that the next boat can be serviced. This is especially helpful during summer months when boat traffic tends to spike. Jim R. from Fort Lauderdale, Florida demonstrates an inquiry we see a lot of: When renovating or expanding a marina is there a pump out for multiple boats with one system? See below:

"Hello, one of our Florida State marina's will be going through an extensive expansion and renovation in the next 6 months. We are expanding to about 250 slips and we are looking for an advanced pump out system to accommodate multiple slips and users. The boats in the marina range from 22' all the way up to 70' yachts and sailboats, so the pump out will have to be powerful and easy-to-use with repair parts easily accessible. We are also looking for a mobile pump out to use as a back up and temporary pump out services until the renovation is complete. We are not interested in Peristaltic pumps due to the cost and mixed performance results from other marinas we have talked to. What does Wastecorp suggest? Please send your proposal." Thank you,
Jim R. Bradenton, FL USA
Vacuum Pump Outs
Thanks for your inquiry Jim. As a marine pump manufacturer we tend to recommend one of two pump outs: a vacuum pump or a diaphragm pump. To service multiple boats at the same time, our Super Duty vacuum pump systems are offered in five different models ranging from 65 gallons all the way up to 600 gallons. We would suggest your marina go with a 450 gallon model, WVP 450, since it can pump out up to four boats at the same time. Now, if your State marina is within reach to the municipal sewer system then it can discharge into it since the maximum discharge distance is over 1000 ft. You can plan on between $8000-$12,000 USD for such a system with minimal spare parts required.
Click here to see a vacuum pump brochure and the models available to you.
Back Up Pump Out for Marine Use
As for the portable back up pump out for your marina, most mid-size and larger marinas go with an HW-500 Series Honey Wagon. This system allows you to tow the system around the marina and provide mobile pump out services. You have the option of either electric or engine power but many marinas like the electric power because the pump out is less noisy.