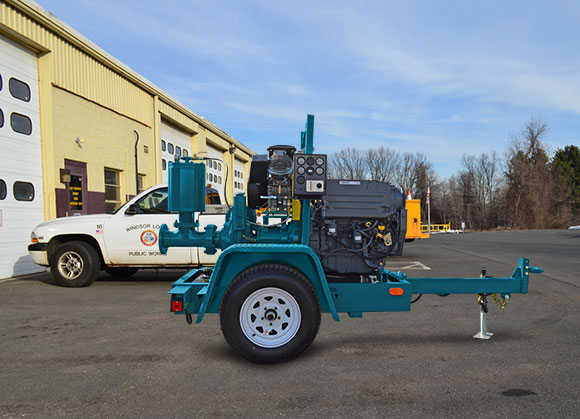 We get a lot of questions from  water treatment plants (WTP's) and public works departments asking about the differences between regular trash pumps on a trailer with diesel engines and dry prime pumps. The following question from a municipal pump operator exemplifies the discussion:
Hi, we use your Wastecorp double disc pumps at our primary scum pumping operation but we also have a need for a dry prime pump or a regular trash pump for pumping out our digesters for maintenance and manholes in our city. I noticed Wastecorp manufactures both dry prime and regular trash pumps. What is the difference between the two in terms of pumping performance and price? Thanks, Earnest Ernest A. Grovetown, GA
Good to hear from you Ernest. We see you are looking at either a 6" dry prime pump with a tier 4 diesel engine and a 6" self primer with engine on a DOT approved trailer.  Dry prime pumps are generally designed to be able to pump dry indefinitely without damage to the pumps. A regular trash pump is not. With a trash pump, the casing must be filled with water to avoid burning out the mechanical seal which can get pricey if you do as you know. Trash Flow Dry Prime pumps have a unique oil bath technology, ensuring that the mechanical seal is always lubricated in its own chamber. This safeguard allows the pump to run dry indefinitely without damage. Trash Flow TFV Series pumps can pass 3" spherical solids and produce suction lifts to 28 Ft. This enhanced priming system, minimizes effluent discharge into the environment.
Ernest, this dry prime pump also features an intelligent priming system, using a Quincy compressor to rapidly evacuate air from the suction line which is exhausted to atmosphere. Liquid replaces the air, automatically priming the pump within seconds. The result is fast, efficient and an environmentally friendly pump system. A regular self priming trash pump may need more time to prime as well.
I also understand that you will be pumping up both hills and inclines. A dry prime pump is designed for pumping higher heads and higher flow rates. With a 6" dry prime pump you will get up to 250 ft. of head of pumping power with up to 3400 GPM of pumping power. The pump can handle up to 3" solids with multiple impeller options available.
There is a difference in pricing obviously between the dry prime pump and a regular trash pump because of the additional pumping technology involved. However, when pumping up elevated areas you want the pump with the power to do so. Many of our dry prime pumps are in stock or have a short lead time. When you compare the pricing between a Trash Flow Dry Prime, a Godwin Dry Prime Pump and a Gorman Rupp Prime Aire pump you may be surprised about the value you are getting with the Trash Flow. Hope this answers your dry prime pump questions Ernest. Please review our proposal and we will follow up with you soon.