Water and Wastewater treatment facilities across the country are undergoing unprecedented upgrades to their pump systems and infrastructure. During construction when new piping, digesters, lagoon refurbishment and systems updates are being completed, water and wastewater must continue to be pumped and treated for surrounding communities. A Maine wastewater treatment plant recently experienced this situation. During a $10,000,000 secondary wastewater treatment upgrade Wright Pierce Environmental Engineers and US based public works contractor Penta Corporation worked with Wastecorp Pumps to specify a Trash Flow Dry Prime TFV-6 dry prime pump. This diesel driven dry prime pump can transfer up to 3400 GPM with up to 200 ft. of TDH. The TFV-6 can transfer up to 3" solids with a semi-open non-clog impeller.
Wastecorp conducted an in depth pump training and start up program with the facility staff, Wright Pierce and Penta. Included in the pump spec was the use of float switches which allows the facility to operate the pump with limited staff involvement on a 24 hour schedule. The float switches are secured inside one of the facilities wastewater intake areas where the high, low and alarm floats are secured. This is especially helpful for pumping after hours, heavy rain or snow and normal use of the city's wastewater sewage system. All the pump operater has to do is position the floats where desired and select auto run on the control panel to activate the automated pump out function.
The TFV-6 features a 74 hp tier 4 final diesel engine. Engines are available from Deutz, Caterpillar and John Deere. This powerful engine assists in pumping out manholes around the community, flooded roadways, lagoons, digesters and general wastewater pumping tasks.
Wastecorp manufactures the TFV-6 with a DOT compliant trailer system with available hydraulic surge brakes, lifting bail and LED lighting system with The TFV -6 includes a vacuum compound gauge and a pressure gauge which provide on demand information to the pump operator concerning suction and discharge values. A hose strainer assists in separating larger rags, disposable wipes and other solids from the pump operation enhancing pump productivity.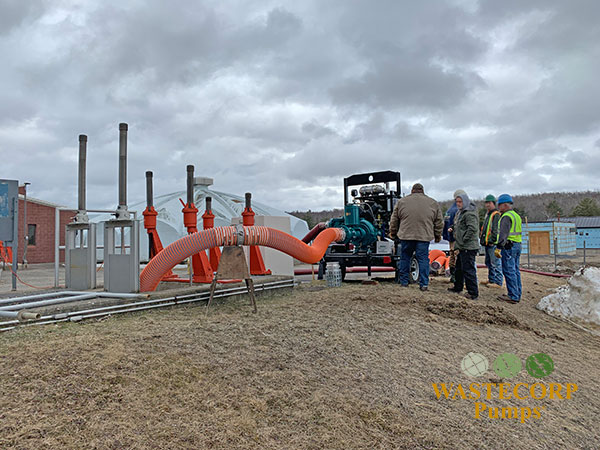 Wastecorp is a proud partner with environmental engineers, contractors and public works operators in achieving their pump goals. Wastecorp provided all non-collapsible hosing, couplings, floats and accessories to the engineer and contractor so the pump could be quickly placed into service. If you would like assistance specifying a dry prime pump for your next project contact ISO certified experts in pump manufacturing. Contact Wastecorp Pumps.