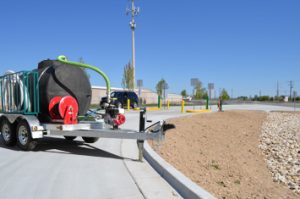 One of the most popular questions customers ask when trying to find the right water trailer for their needs is why do some water trailers have black or green tanks? The answer is simple, black or green tanks help to reduce algae growth in the water tanks. This is especially helpful if the water will be used for drinking water or livestock watering needs.
Who Buys Water Trailers With Black Tanks?
Water trailers with black tanks are especially popular for applications that require potable water. The black polyethylene tanks help to reduce algae growth. Black tank water trailers are popular among marathon, triathlon, iron man and cycling organizations that regularly hold events where clean, potable water is a must. Neighborhood Associations hosting street fairs use these water trailers for needs involving outdoor cooking and attractions involving water rides.
How Can Our Association Reduce The Costs With Buying a Water Trailer?
Many of our running club customers and neighborhood associations team up with other groups in their area and split the cost of the water trailer. This ensures that the water trailer is used regularly and in most cases ends up being an excellent long term investment versus having to call in a water truck service. This requires some planning, but you'll be amazed on how many groups need a water trailer but are looking for a partner to defray the costs. Ask other associations in your area and you might get the answers you're looking for.
No matter if you ultimately decide on a translucent or black tank, make sure the water trailer is well built by a reputable manufacturer. This ensures proper safety when towing on public roads and overall reliability. The deck and piping you see on the 525 gallon water trailer above is manufactured by Wastecorp. It features a galvanized diamond plate deck material which resists corrosion from the elements. The same goes for trailer frame. The valves are all brass and the hosing material is industrial grade rubber which is designed for constant use.