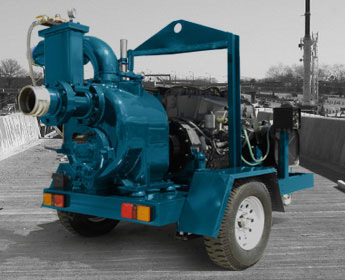 When looking for a trash pump for your rental, municipal, industrial or mining pump application, you will likely encounter dozens of manufacturers out there. The pump industry is certainly not short on selection. But here's what you should know: sizing the right pump for your application can not only help you get the right pump, but may also prevent premature pump wear and maintenance down the road.

Wastecorp's engine driven trash pumps take into account, the variety of needs in the trash pump marketplace. First, Wastecorp has divided the category into two parts: The first is the commercial/pump rental market and the second is the mining, municipal and industrial pump markets. With a commercial/rental trash pump spec, you get a choice between 4" and 6" sizes with a fluid handling range of up to 525 GPM for the 4" and 1185 GPM for the 6". Generally the commercial trash pump line is more compact with a few less bells and whistles than the municipal trash pump line and the prices reflect this. Our rental specs are priced for the rental pump market and construction pump market ranging from around USD $15,000 for the 4" and $19,000 for the 6".
Wastecorp municipal, industrial and mining trash pump lines offer a more robust frame and pumping capabilities to reflect the needs of the punishing pumping environments found in the municipal and industrial pump space. These engine driven trash pumps are equipped with Deutz diesel engines up to 148 hp. The pump user can select alternative engine arrangements from John Deere, Caterpillar and others. Pump connection sizes range from 3"-12" which offer pumping capabilities from 465 to over 6300 GPM. As you might imagine, pricing also changes here with models starting in the $18,000 USD range.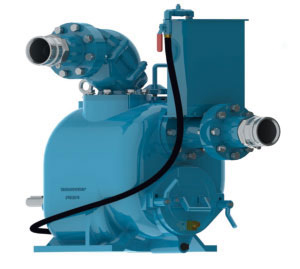 The Trash Flow trash pump product line is available with an optional vacuum assist feature on every model. Vacuum assists the end user in pumping through large volumes of air or through long suction hose lines. Engineers, contractors and end users also have the option of trailer mounted units or skid mounted units. Each includes a standard lifting bail for quick maneuvering around job sites. No matter which trash pump manufacturer you ultimately select, ensuring that you size the pump correctly for your current and future needs will help you get the right pump for your application.