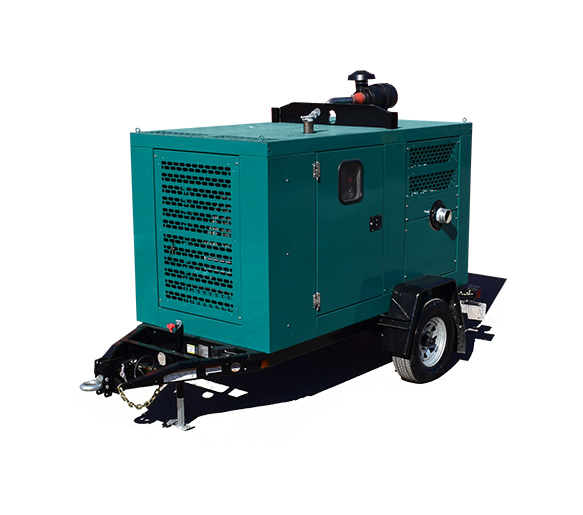 Wastecorp has launched a high volume and high discharge head pumping solution for municipal water treatment facilities. The Trash Flow TFVH Series dry prime pump with high head capabilities is available in 6"x4", 8"x6", 10" x 8" and 12" x8". This enable the pump operator to transfer water and wastewater starting at 5400 GPM up to 12000 GPM. Maximum discharge head ranges from 450 ft. up to 720 ft. This enables water treatment plants located in areas with inclines, hills and mountains to effectively transfer water during bypass operations, WTP maintenance or water treatment facility expansions
Wastecorp offers trailer mounted and skid mounted models with an optional "Husher" sound attenuated enclosure to reduce noise levels in residential areas. Continuing Wastecorp's tradition of using premium industry leading components, The Trash Flow TFVH Series is available with the customer's choice of CAT diesel engines, John Deere, Deutz or Toshiba electric motors. Custom configured control panels with optional touch screens allows the operator state-of-the art control of the dry prime pump system. 80-120 gallon fuels tanks are available and optional float switches, non-collapsible hosing and fleet management solutions is also available.
Trash Flow TFVH-6×4
The Trash Flow TFVH-6×4 features a 6" suction and a 4" discharge with max capacity of 3000 GPM. The TFV-6×4 is capable of transferring up to 3" solids and maximum head of 490 ft. Engines are available up to 174 hp. This pump is ideal for mining application with higher discharge head requirements, construction sites and water treatment facilities. More information can be found at:
https://wastecorp.com/Products/Trash-Pumps-Dry-Prime/TFVH-4M-4-Inch-Dry-Prime-High-Head-Trash-Pump
Trash Flow TFVH-8×6
When pumping up to 5400 GPM and 450 ft. of head, Wastecorp Trash Flow TFVH elevates high volume pumping to the next level. With up to 3" solids handling capabilities and up to 450 HP engines, Municipal public works, mining and industrial applications have a trusted partner to get the job done. This dry prime pump includes an 8" suction and 6" discharge. More information on this pump can be found at:
https://wastecorp.com/Products/Trash-Pumps-Dry-Prime?product_id=400
Trash Flow TFVH-10×8 – Dry Prime Pump
The TFVH-10×8 is a powerful high head dry prime pump with water transfer capabilities up to 6500 GPM with up to 450 ft. of head. For applications with water containing solids the operator can pump up to 3.5" solids. Select engines up to 520 HP. Check out the link below for more information
https://wastecorp.com/Products/Trash-Pumps-Dry-Prime?product_id=401
Trash Flow TFVH-12×8 – Dry Prime Pump
For the ultimate in high volume water treatment facilities or mines with deep shafts or steep slopes, the Trash Flow dry prime pump TFVH-12×8 is the answer. Pump up to 12000 GPM with up to 720 ft. of head. Select ultra powerful diesel engiens up to 1200 HP. See the following link for more information.
https://wastecorp.com/Products/Trash-Pumps-Dry-Prime?product_id=402
Wastecorp decreases the dry prime pump lead time when compared to other manufacturers so you get the same high quality pump and components quicker for your pumping job. Wastecorp is also an ISO 9001 and 14001 certified pump manufacturer with testing proceeses adhering to Hydraulic Institute standards. Contact Wastecorp today to find out more information. 1-888-829-2783 or info@wastecorp.com Wastecorp high head dry prime pumps are available in the United States, Canada and worldwide.