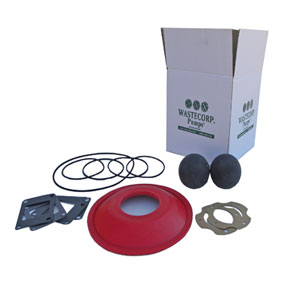 Older diaphragm pump parts can be difficult to find and repair kits or overhauls even trickier. However, a few steps can help you identify the components you need to get your pump up and running again. Replacement diaphragms are the easiest to match. We come across Mud Sucker, Home Lite,  Mud Hog, AMT, Tsurumi, Multiquip, Wacker and Honda diaphragm pumps all the time that we can match. Repair kits like pump rods, covers, flapper valves and gaskets might be a bit tougher.
The first step is to find the nameplate on your diaphragm pump. This is typically a steel or aluminum panel on the pump body with the manufacturers name, model number, serial number and motor rating. When you call in, make sure you have this information handy as it tends to speed up the process with your phone support representative
Next, check to see if you have the pump owners manual. If you have purchased the pump used, you might have not received one (but should have). The manual will help you identify what components you need for your pump. Specifically, look for an exploded view drawing  or a schematic that shows all the components for your pump.
Finally, do a critical assessment of your pump. It tends to be a lot more effective and cheaper if you buy a pump repair kit rather than one or two individual components. You don't want to buy just a diaphragm and then realize that the flappers needed replacing too. And, If the cost to repair your pump simply isn't worth it, consider a pump exchange program. Some manufacturers are having swap your pump promotions that allow you to trade in your old diaphragm pump for a new one and save money along the way. Here are a list of links to replacement parts for diaphragm pumps: