How to select a paint manufacturing pump

When paint production facilities require pumping equipment to transfer paint there are a number of factors that should be considered. From understanding the abrasives in the paint to the configuration of your production floor here are some tips to keep in mind:
1. What is the consistency of the paint being pumped?
This is one of the most important considerations when selecting the right pumping equipment.
Many customers have experimented with several different pump options to no avail. Most paint transfer application involve moving a thicker slurry. In the first photo you see here, we recommended that the customer go with a Mud Sucker ball valve style diaphragm pump designed for thicker grease type consistencies. This style of pump is transfers thicker slurries like bentonite/water mixtures. The Mud Sucker 2B-DD can also pump primer, abrasive paint, hot bituminous paint, latex water soluble, non-abrasive, paint base, alkyd base, epoxy paint, acrylic paint, and more. The pump features a 2" connection and a single suction and single recirculation point.
2. Analyze Your Paint Production Process
The Mud Sucker 2B-DD double diaphragm pump shown here is used to pump paint from a 1000 gallon holding tank to the production floor and then recirculated back to the tank.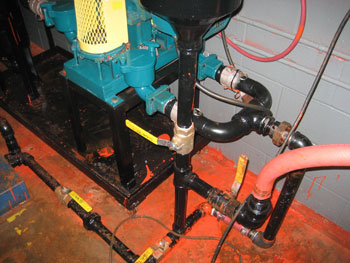 3. Consider the pump components for your process
The Mud Sucker Diaphragm Pump is available with application specific components like Neoprene flappers, diaphragms and check balls that are generally resistant to solvents, select chemicals and oily abrasive applications.
4. Consider your flow rate
Understanding your paint transfer process is the key to selecting the right pumping equipment. The Mud Sucker pump product line is available with a number of connection options ranging from 2"-4". We typically recommend the heavy duty P Series Professional diaphragm pumps for process applications. These pumps can transfer up to 220 GPM of viscous fluids. For more infomation on Mud Sucker pumps visit https://wastecorp.com/Products/Diaphragm-Pumps/Double-Diaphragm-Pumps