Getting the most of your honey wagon pump out system will help you maximize your day-to-day productivity. In the video above you will see how to use the honey wagon to pump both into and out of the tank with the same pump. You will also see how easy it is to change the direction of flow when needed.
To review the definition of "what is a honey wagon"; this is a system designed to pump out fluids into a holding tank or a tote. fluids can include septic waste from portable toilets, RV grey and black water, bilge waste and waste oil, waste hydraulic oil, waste vegetable oil (WVO) and more. Honey wagons are sold to campgrounds, government agencies like the military, Dept. of Parks and Recreation, Wastewater treatment facilities, public works agencies, the Department of Transportation (DOT), Marinas, construction companies and all kinds of industrial applications.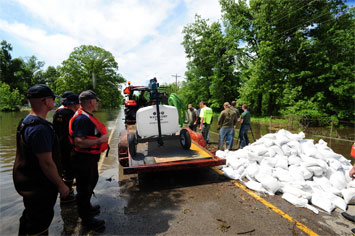 We have often heard customers asking whether or not they could build their own honey wagon. The answer of course is yes, but we strongly suggest you go with a reputable honey wagon manufacturer instead. Obviously, from a sales point of view Wastecorp designs and manufactures them and we are in business to sell them. But aside from that, customers must keep in mind that when you haul hundreds or even thousands of lbs of waste, the proper safety precautions must be taken. For example, there is heavy surge in the tank when breaking, so your trailer should be equipped with electric brakes and government approved lighting kits to safely come to a complete stop. Third, Wastecorp has sold thousands of honey wagons and has the ability to negotiate discounted pricing on all the proper components you need to safely haul your honey wagon. Chances are, you will get a cheaper system from buying your pump out from a honey wagon manufacturer than you can on buying the individual components yourself and paying retail price. Finally, you are spending thousands of dollars one way or the other on your new pump out system. Why not do it properly the first time?