Winter in northern climates brings a host of challenges for municipal sewage pumping. With heavy rain and snowfall, America sewage treatment plants must pump through a cycle of runoff and grit in addition to pumping raw activated sludge from December through April every year. Only the toughest sludge pumps can provide a long life cycle and reduced component wear through these design conditions.
This was just the case for an Oneida County New York wastewater treatment facility. The decades old wastewater treatment facility recently underwent a massive upgrade to improve their pumping operations with new sludge pumping equipment and control panels to manage a growing community and the harsh winter weather.
Working with the end users and local contractors,
Wastecorp
designed, manufactured and installed a next generation
Sludge Master PE 1141
dual ball valve plunger pump. The facility selected a guided stuffing box assembly to help reduce wear on the plunger and pump packing. The dual ball valve configuration helps to manage higher than average solids concentrations of above 10%. The PE-1141 comes equipped with graphite flax packing and a u-cup ring to improve leak reduction and sludge pumping performance.
The suction and discharge gauges provide on demand pump pressure information to help detect a blockage or closed valve in the system. This Sludge Master PE Series replaced an aging Carter Plunger Pump and the installation was achieved with few modifications to the piping arrangement making the Sludge Master a cost effective replacement.
The facility also installed a state-of-the art variable frequency drive system to optimize pump performance and save on energy costs.

When it comes time to rethink your sewage handling pumping equipment, talk to a leader in sewage pump manufacturing with an over 30 year trach record designing and manufacturing sewage pump worldwide. Talk to Wastecorp Pumps.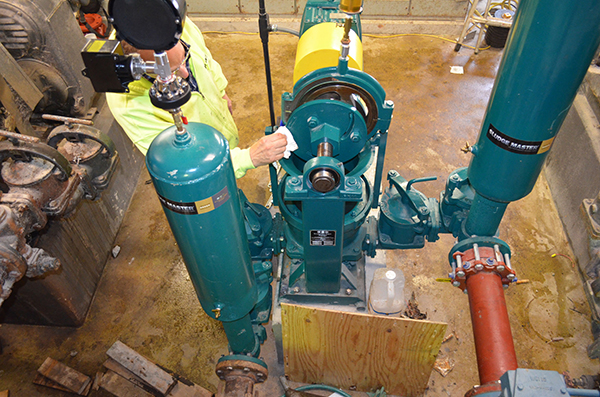 This municipal primary sludge pump includes a pressure sensor to automatically shut off the pump when a closed valve or blockage in the line is detected.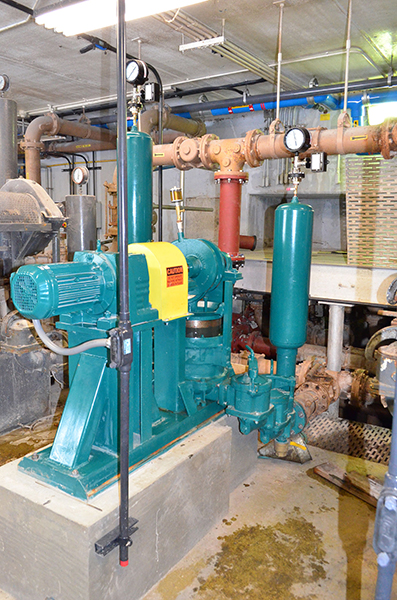 A new municipal sewage pump for primary sludge pumping operations.