Background
The Taipei City government has made a significant commitment and investment in recent years to upgrading and expanding its wastewater treatment facilities and equipment. Many of these facilities are located close to the Danshui River, along a 25 Km stretch southwest of Keelung, Taiwan. The water pollution control facilities serve almost seven million residents in the Taipei metropolitan area which includes Taipei City and Keelung City.
Issue
The Department of Environmental Protection conducted an extensive review of replacing the 30 existing plunger pumps in service since the late 1980's. Competing manufacturers and sewage treatment technologies were evaluated by Topco Scientific a Taiwan based high technology and environmental engineering services firm1. Topco awarded the contract to Wastecorp Plunger Pumps to design and manufacture the 30 plunger pumps for a specific facility upgrade. The pumps are specified for digester recirculation and transferring raw municipal sewage.
PE 1142 Plunger Pumps
Wastecorp's PE 1142 plunger pumps are specified for the heavy duty raw sewage, and waste activated sludge transfer pumps needed for the metropolitan area. The specification called for hydrostatic testing in accordance with Hydraulic Institute standards and factory witness testing by representatives of Topco and Taipei City government officials.
Materials Preparation
The First Step In The Production Of Any Plunger Pump Is The Manufacturing Of The Pump Base, The Foundation For Plunger Pump Sewage Treatment Technology. This Project Specification Called For Bear Metal To Be Cleaned In Accordance With SSPC-SP-8 Standards. An IPG Alkyd Inhibitive Primer Is Applied To All Components To Ensure Corrosion Resistant Performance For The Long Term.
Plunger Pump Production
Wastecorp's Plunger Pump Assembly Team Have 10 Years Minimum Experience In Both Plunger Pump Production And Hydraulic Institute Testing Procedures. All Components, From The Siemens Motox Constant Speed Helical Gear Motors To The A41140 High Strength Alloy Main Shafts Undergo Rigorous Factory Tests And Witness Testing From The Consulting Engineer And Representatives Of The Taipei City Government.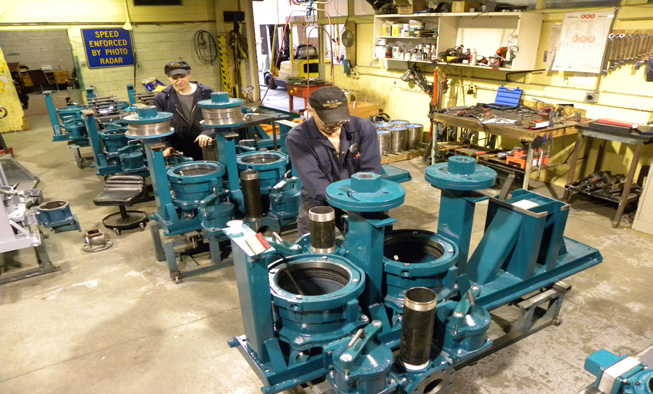 Final Steps
After The Alkyd Inhibitor Primer Is Applied, The Plunger Pumps Are Sent For Final Paint In Wastecorp's Ubiquitous Aqua Color With Minimum Thickness Verification Of 6-12 Mil. The 30 Pumps Undergo Hydrostatic Testing And Are Prepared For Shipping.
Shipping
"Our team felt enormous satisfaction in shipping 70,000 lbs of pumps and spare parts over 7000 miles (12,500 km's) and arriving without a scratch. We had to meet strict Taiwan import standards which require that pumps be mounted to steel skids instead of wood. We pretreated all components with a military grade rust inhibitor to protect against the elements."
- Dan Starr, Associate Project Manager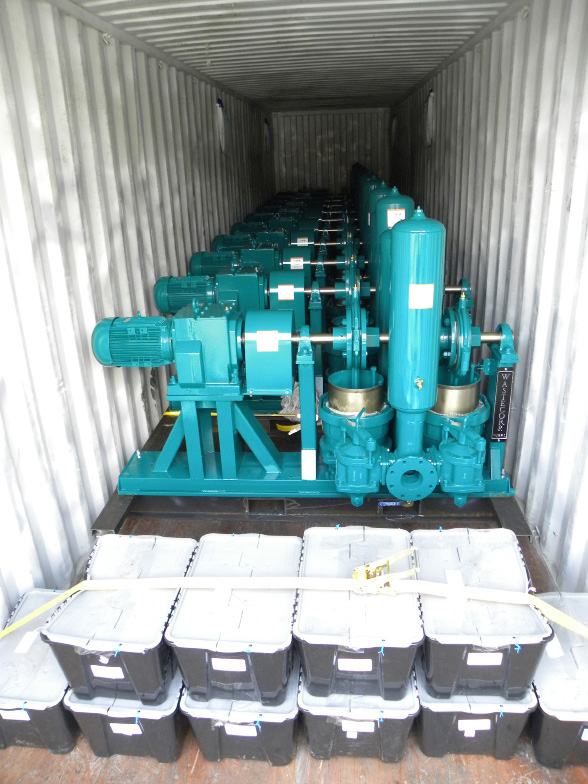 Ocean Freight Ready
The pumps require three 40' high HC ocean freight containers. Each container holds over 23,000 lbs of pumps and spare parts.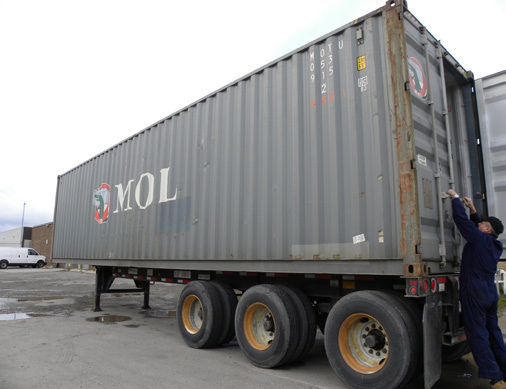 Shipment Preparation
Pumps are securely mounted to steel skids for easy loading and off loading.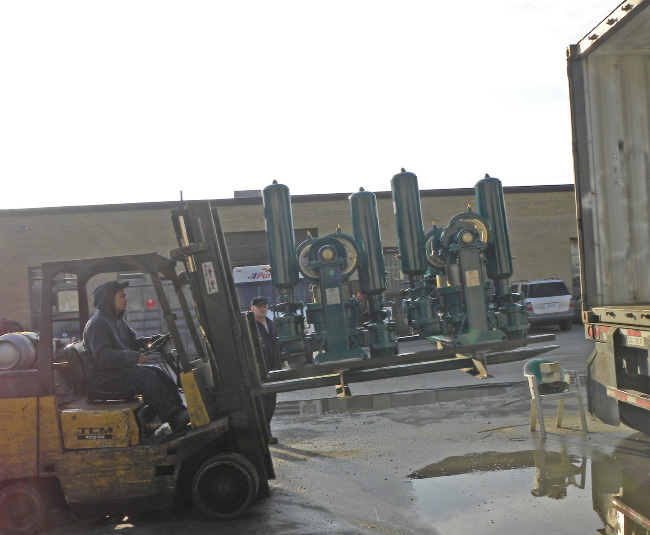 Loading The Pumps
Extreme care is taken when loading the massive pumps, paying close attention to air chambers and flange connections.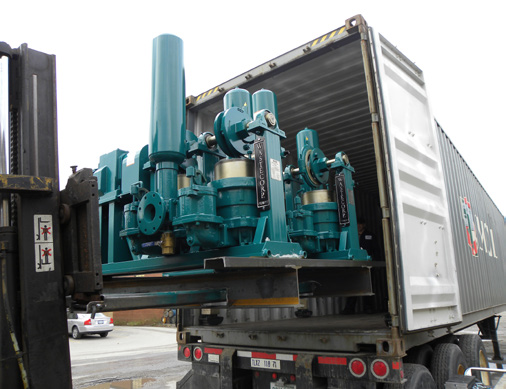 Securing The Pumps
The plunger pumps are fastened to the shipping container using high tensile strength materials to prevent movement on rough seas.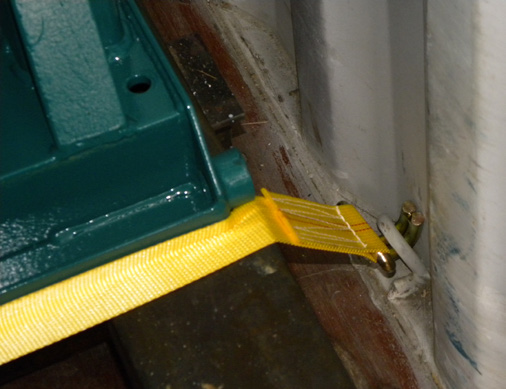 Installation & Training
"With any pump project of this size and scope there are always challenges. There are language barriers and cross cultural differences that must be addressed in order for the project to succeed. With our talented production staff, cooperation with the consulting engineers and city officials, we not only delivered pumping solutions for the plant but made some great friends along the way."
- Marc Johnson, Engineering Manager
Removal Of Existing Pumps
The existing plunger pumps in service since the late 1980's are replaced with the 2010 PE- 1142 plunger pump series from Wastecorp Pumps.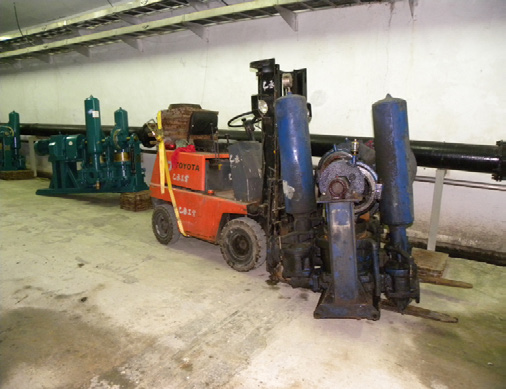 Removal Of Existing Pump Bases
Pump bases for all 30 pumps are removed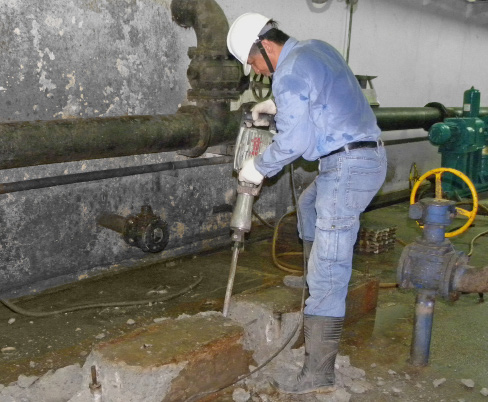 Construction Of New Pump Bases
The facility specified new pump bases for the new PE-1142's.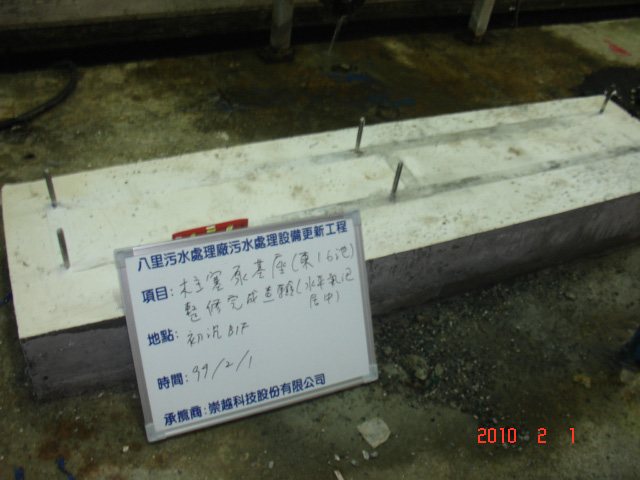 Wastecorp Factory Pump Training
Wastecorp provides on-site training for facility staff. The consulting engineer, City authorized contractors and Wastecorp representatives participate.