Pump Energy Consumption
Like many pump operators you are probably wondering what is the energy consumption difference between using an air operated diaphragm pump (AOD Pump) or AODD pump and a mechanical style diaphragm pump with an electric motor or gas engine. Here you can compare the energy costs of operating an AOD pump and a mechanically driven diaphragm pump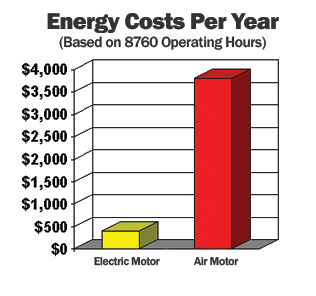 With rising energy costs and heightened environmental awareness, Wastecorp has recently engaged in a study of comparing the relative cost to operate a mechanically driven diaphragm pump and an air operated pump.
Based on an average operating time of 8,760 hours per year, an air driven pump will cost nearly $4000 per year versus $500 for a mechanically operated pump like a Mud Sucker.*
The Pump Perspective
When we apply these fact to real time operating conditions, a typical air driven pump operating a 1 HP air motor at 100 psi is equal to a 7-8 hp electric motor.
Mud Sucker diaphragm pumps are driven by high efficiency motors which meet EPACT and NEMA MG1 standards
According to the U.S. Department of Energy, "compressed air is one of the most expensive sources of energy in a plant. The overall efficiency of a typical compressed air system can be as low as 10-15%"
* Costs are based on average electricity costs in major American markets. Figures are in U.S dollars.